A 47-year-old woman dubbed the "purse packing bandit" pleaded no contest today — in the midst of trial — to felony charges stemming from robberies at nine banks in West Hollywood, Beverly Hills and Los Angeles.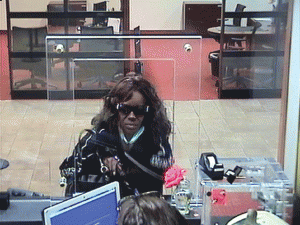 Brianna Clemons Kloutse entered her plea — she also admitted two attempted robbery counts — after 11 bank tellers testified and just as prosecutors rested their case.
She faces 14 years and four months in prison and is set to be sentenced June 30.
Prosecutors said Kloutse often wore a wig and showed a gun or indicated to tellers that she had a weapon in the large handbags she was carrying when demanding cash.
Kloutse was arrested last August by Beverly Hills police as she fled following a bank robbery in the 8400 block of Wilshire Boulevard. Among her robberies over a two-year period was one at the West Hollywood branch of Citibank in October 2012.
Police originally theorized that she worked with a man who distracted bank employees during the heists. On the day of Kloutse's arrest, officers held a television/movie producer for about six hours on suspicion of being her accomplice. When detectives reviewed surveillance video, the African-American man was released and the Beverly Hills Police Department issued a public apology.
It is unclear how much money Kloutse stole. But the L.A. City Council and the FBI last year announced a $15,000 award for information leading to her arrest.