The real estate development community is throwing its support heavily behind Mayor John D'Amico, Councilmember John Heilman and challengers Joe Guardarrama and Lindsey Horvath in the upcoming West Hollywood City Council election.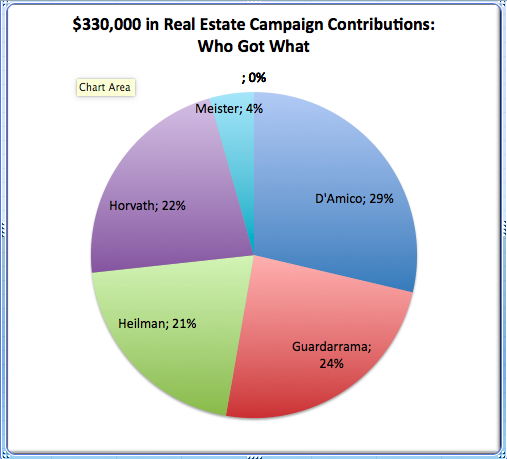 The most recent campaign finance reports, which cover the period from Jan. 18 to Feb. 14, 2015, show that roughly 36 percent of the $622,000 in donations thus far comes from real estate interests. Those interests include developers, real estate agents, real estate investors and lobbyists and lawyers who work for developers of West Hollywood projects.
D'Amico, who has said the city needs to manage development more carefully, is the recipient of 29 percent of real estate money. Next is Guardarrama, a lawyer who has been endorsed by D'Amico and is a close friend, with 24 percent of the real estate dollars. Lindsey Horvath has received 22 percent of real estate money, followed by incumbent Councilmember John Heilman, who has received 21 percent
Challenger Lauren Meister, who is a critic of what she sees as the City Council's willingness to override existing zoning laws to accommodate new development, has received only four percent of the money donated by real estate interests. Other candidates in the race have received less than one percent.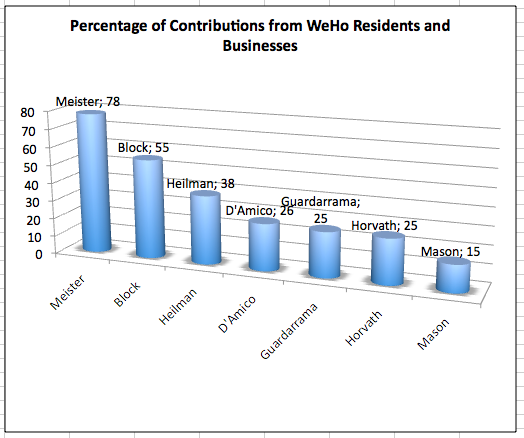 The latest campaign donation reports show that the Tuesday election, as in years past, continues to be dominated by donations from out of town interests, which include real estate developers, billboard companies that need the Council's approval for some projects and city vendors such as Athens Services, the trash collector, whose contract was extended for 15 years by the Council last year without putting it out to bid.
Meister is the largest recipient of donations from local residents and business owners, with 30 percent of all local contributions made in this election thus far going to her (they constitute 78 percent of all the contributions made on her behalf). She is followed by Larry Block, with 21 percent, John Heilman with 14 percent, John D'Amico and Lindsey Horvath, with 10 percent each, Joe Guardarrama with nine percent and James "Duke" Mason, who got six percent of donations from locals.
D'Amico has collected 25 percent of total donations, including those from an independent expenditure committee outside his control that is campaigning for him. Next is Horvath, with 20 percent, followed by Guardarrama (17 percent), Meister (15 percent), Heilman (14 percent), Mason (five percent) and Block (four percent). Candidates John Allendorfer, Brian Funnagan, Christopher Landavazo, Matt Ralston and Tristan Schukraft have reported small or no contributions.