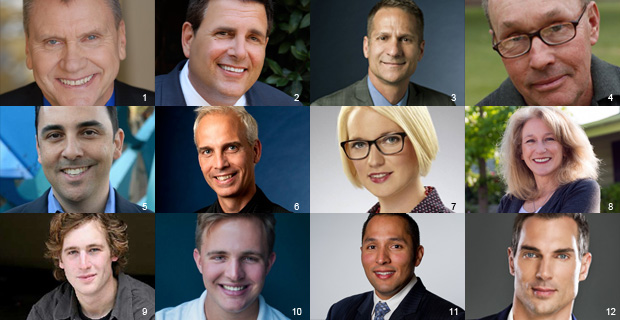 Today 11 of the 12 candidates for three seats on the West Hollywood City Council offer their responses to questions raised by West Hollywood residents about pedestrian safety (one candidate, Christopher Landavazo, did not respond). Each week through Feb. 23 we will publish one or more questions  raised by readers of WEHOville and the candidates' responses. Candidates spoke to their qualifications for the Council on Jan. 12 and addressed traffic concerns on Jan. 14.  They explained their positions on parking issues on Jan. 19 and on pedestrian safety on Jan. 26.
Question No. 5: Given its compact size, and that it's the most densely developed city west of the Mississippi, there will always be a struggle between the desire for new construction and preservation of historic buildings. How would you, as a Council member, address that inherent conflict? Are there special standards that you think an historic property should meet to be spared the wrecking ball? Are there special standards a proposed development should meet if it requires tearing down an historic building?
JOHN ALLENDORFER
I believe that good balance addresses the inherent conflict between new construction and preservation. There should always be some good outstanding history kept in our very young city that can be seen and enjoyed by the residents. One outstanding example of this preservation would be Plummer Park and in particular Great Hall/Long Hall. There are private residences and commercial buildings in our city that housed many creative artists who contributed significantly to the entertainment industry of Hollywood.
The Historic Preservation Commission should work closely with the City Council as to what buildings have contributed to the history and positive image of the city. One standard for proposed development when tearing down an historic building would be for the new development to make reference to the history of the previous historical site in visual design or educational format. New development at the same time can show positive forward thinking that prides itself as a city on creativity.
LARRY BLOCK
Ok, Part A, the inherent conflict between the desire for new construction and preservation. It's always a balance. I believe in the preservation of our treasures, and granting historic status to those buildings to protect them. On the other hand, any property owner that owns and pays property taxes versus renting inherently wants to remodel and or build.
I've advocated to the West Hollywood Preservation Alliance and also suggested to the Historic Preservation Commission to get more active in finding these special buildings and submitting applications to give them the historic status. Our city is 1.9 square miles. It should not take a demolition permit to get moving on declaring the Streamline Moderne building a historic building. Look around the city and the architecture on the Circus of Books building on Santa Monica Boulevard. It stand out as very unique building.
But, to complete this question is the desire for new construction. As a person who enjoys buying a house, fixing it up, and flipping it in the old days, its fun! That's not my business, but I'd imagine a developer looks at opportunities to create something great. Most bring a creative vision to the process with the goals of investing in their own idea and making as much profit as market forces allow. New construction and development are driven by market forces and interest rates more than most other factors. Here in West Hollywood we have a unique demographic that is young, upwardly mobile and many gay households have above average disposable income. This drives demand. Demand drives prices. Perhaps today' we are a victim of our own success.
Part B of this question, how to address the conflict and standards. Each case is based on its own merits. Using Great Hall/Long Hall as an example, my feeling is that once we achieved historic recognition the threshold for demolition must be extraordinary. And the special standards a proposed development should meet to allow a historic building to come down would be weighed on its benefit to the community. Perhaps if we didn't have a nearby hospital or school… we would have to make some choices.
JOHN D'AMICO
Our city has a large and significant selection of residential, commercial and civic structures, including many historic buildings. In the past, the city has focused on the preservation of residential structures. This year, I voted to initiate the commercial historic structures survey. This will increase the visibility of potentially historic structures, increasing the likelihood for preservation and reducing the last-minute efforts to save a building on a development site. Across the city we have hidden historic gems that need to be evaluated so that the community can know what we have and the developers can also know what we consider important before purchasing the property for redevelopment. Several examples come to mind: the Los Angeles County Fire Dept. Station #8 on Santa Monica Boulevard and Spaulding Avenue, the Eames building on Beverly Boulevard near Robertson Boulevard and the R.M. Schindler property on Holloway Drive near Sunset Boulevard. There are many more.
West Hollywood's Historic Preservation Commission (HPC), and my appointee in particular, Allegra Allison, understand the U.S. Secretary of the Interior's standards and how they should be applied when considering a historic structure. The survey, in combination with the HP's work and community input, can assist the Council in better decision-making on the preservation of more of the city's historic fabric.
As we enter a new period of development and growth we must be even more thoughtful and vigilant about how we view and protect our history and our historic buildings.
BRIAN FUNNAGAN
Preservation is about nostalgia, a yearning for the way things used to be…your first day at school, first ballpark hotdog, first kiss, etc.
Wikipedia reminds us that to be listed on the National Register, sites must retain their historic integrity. They usually must be 50 years old and their listing must be promoted – or at least not opposed – by the current owner.
So preservation is a popularity contest and a beauty contest and as our original teacher, Plato, put it, "Beauty lies in the eyes of the beholder."
JOE GUARDARRAMA
There are, in fact, very specific standards that a building must meet to be designated as an "historic building." However, as a city, we need to be looking further into preserving our architectural history, whether or not those buildings fall under an official designation or not. As a former Planning Commissioner, we had many buildings come before us that, while they were not necessarily "historic" by California State standards, they were important to the history of West Hollywood. Currently, we are seeing a similar discussion regarding Fiesta Hall at Plummer Park. We should explore the option of preserving Fiesta Hall, regardless of whether it has yet to be designated as "historic."
JOHN HEILMAN
Truly historic buildings need to be protected and preserved. I was one of the council members who initiated and adopted our Historic Preservation Ordinance. We have already designated and protected numerous historic buildings, and we will continue to do so. But not every building in West Hollywood will meet the standard for preservation. Some buildings have been significantly altered over the years so there is nothing left of the original structure. When a building meets the standard for historic preservation, we need to do everything possible to protect the building from demolition.
LINDSEY HORVATH
The city, state and federal governments have each already established guidelines for historic designation. Interestingly, however, even if the state or federal government has designated a property as historic, the city does not have to protect their designation. The first step in protecting historic buildings is to make the standards for historic designation consistent and to help educate the community about what those standards are. As a renter, I'm especially concerned about protecting the habitability of rent-stabilized buildings, and believe we must do all we can to protect them as an affordable option for housing in West Hollywood.
CHRISTOPHER LANDAVAZO
No response.
JAMES "DUKE" MASON
My family has been in and around our city for almost 70 years. I'm in this race, in large part, because I want to make sure our city doesn't lose the unique heritage and identity that makes special. That means protecting our historic buildings against the overrun development that has plagued us as a city in recent years. I understand that new construction is sometimes necessary and is sometimes a good thing, but it shouldn't be at the expense of buildings that are historically significant. That will be a basic, guiding principle if I am elected to the Council. I will strive, for instance, in the case of the Melrose Triangle Project, to preserve more of the existing Art Deco structure. I will be a firm ally for preservationists and conservationists if I have the honor to serve.
LAUREN MEISTER
Buildings that have been identified as historic should be preserved. The standard is not "special"– if we declare a building is historic, then we must preserve it.
We need to conduct more frequent assessments of historic resources in the city — both commercial and residential. If properties are evaluated more frequently, this will serve both sides — preservationists and developers — as appeals to the Historic Preservation Commission would not be used as a strategy to oppose a development.
We need to work with building owners and landlords to maintain our historic buildings to U.S. Department of Interior standards so that we do not have situations occur again like what happened at El Mirador.
I prefer adaptive reuse as a strategy for preserving historic buildings that might otherwise be torn down, and the city should be held to a higher standard in terms of preservation of city-owned properties by following the General Plan on Historic Preservation and the Climate Action Plan.
MATT RALSTON
Historic buildings should be protected. If you want to tear down a 7-11 go ahead. If a building is recognizable and associated with West Hollywood, we should grant it monument status so it can stay. Especially commercial buildings. It's a shame the Council has allowed so many iconic buildings to be demolished, like the current House of Blues.
If we turn WeHo into a chain store strip mall it will lose its soul and notoriety and nobody will want to come here, because you can go to a Chipotle in any given suburb. WeHo is special. At least for now. Certain council members and candidates have other plans. At the very least we should elect someone who has the ability to vote them down. Regardless of what side you are on, checks and balances are important.
If you get a Council full of ex-Planning Commission members they're really going to go to town on this city. They're the same ones who have approved what is currently going on, and a staggering amount of additional developments that have not yet begun construction. They approve everything. We need someone with the courage to stand up to them. That's why you should vote for me.
TRISTAN SCHUKRAFT
West Hollywood's rich history is one of the things that drew me here. Its historic landmarks drive tourism, film and more importantly make makes West Hollywood an inviting place to live. They also create and creates a sense of community pride. I recognize that with each building and/or district under review there may a difference of opinion within the community, and each opinion must be heard with an eye to what is best for the people of West Hollywood, but I am in full-support of saving properties of recognized historic significance, which I think the city should identify now.
For those buildings that don't meet the city's preservation ordinances, I'd like to developers to integrate integrating the old with new as like the owners of Laurel Hardware have done.
Question No. 6: The City Council approved an "overlay" that sets standards for new houses and reconstructed houses in the West Hollywood West neighborhood, where residents have complained that new houses are out of scale with the neighborhood. Should that overlay be expanded to other neighborhoods such as the Norma Triangle or the Eastside?
JOHN ALLENDORFER
I believe an "overlay' can be good but should always take into account the uniqueness of each neighborhood.
LARRY BLOCK
The first day this item was on the agenda at Planning I stood up and stated that I was against the overlay zone because it should apply citywide to all similar zones. At the Eastside Working Group I repeated that same idea. Now the West Hollywood West overlay zone guidelines are completed and some want it considered on the Eastside.
My position then and now is that if we did not take a "time out" in the same zones throughout the city these investors would build these same units elsewhere in West Hollywood. And they are doing that. I have five, yes five of these boxes within five houses north and south of me on Huntley Drive. We need development standards that are broader in scope for the city as a whole. Our goals need to be in sync. It might be noted that some candidates whom advocated for the overlay zone did not advocate for the Eastside at that time (which was within the last six months).
JOHN D'AMICO
The idea of an overlay district should be introduced to each of the seven neighborhoods that make up West Hollywood, and each residents of neighborhood should weigh in significantly on what they believe is best for themselves. Neighborhood design standards can be an effective way to communicate community values and maintain a sense of neighborhood stability. I don't think this should be limited to single-family homes. We have seen enough over-sized, under-designed multi-family buildings, too. Real estate value pressures are affecting all neighborhoods of the city, and my commitment to residential livability and community-making remains.
Tools like the "overlay" to keep our city balanced and our design standards smart will need to be employed beyond West Hollywood West.
It was my effort working with a couple residents that got the West Hollywood West Neighborhood overlay effort off the ground within City Hall. The residents and staff did the difficult work of looking for and working out the design standard details. Residents need a strong representative on the Council and within City Hall to ensure that this kind of neighborhood preservation at all levels will find and maintain its place in our city.
BRIAN FUNNAGAN
West Hollywood is a livable, loveable, walking city. As we have established an "overlay" for the West Hollywood West neighborhood, naturally that overlay should be the standard for the city at large.
JOE GUARDARRAMA
If residents of the Norma Triangle and the Eastside feel that new housing construction is not in line with the character of the neighborhood, then I absolutely would support the expansion of the overlay. As I have stated many times in the past, I believe that any new development must fit with and preserve the character of our neighborhoods, and it should in no way overshadow or negatively impact the current landscape of an area.
However, both the Norma Triangle and the Eastside have qualities that are different from West Hollywood West. We should take into account the unique geography and architectural tone of both neighborhoods and tailor overlay zones accordingly for each.
JOHN HEILMAN
Each neighborhood should be treated individually. The overlay was established in West Hollywood West based on development activity within that neighborhood. Standards that work in one location may not be consistent with the needs of the residents in another location. We need to address each neighborhood based on its unique circumstances. We also haven't seen the same issue in the Norma Triangle and on the Eastside of developers tearing down houses and rebuilding much larger houses.
LINDSEY HORVATH
I'm glad that we have a temporary solution to the impacts seen in West Hollywood West from the development of new single-family homes, but I believe the overlay zone is a patchwork approach to solving larger problems that exist because we have a zoning code that doesn't support the General Plan. We need to protect ALL neighborhoods from overdevelopment, not just one.
CHRISTOPHER LANDAVAZO
No response.
JAMES "DUKE" MASON
Absolutely. We must strive to preserve and protect the urban village feel that makes us unique, that makes us who we are.
LAUREN MEISTER
The Eastside is rapidly changing with an abundance of big development, and Norma Triangle is the historic core of West Hollywood. So the short answer is "yes." Both of these areas need better design guidelines.
My hope is that we "raise the bar" on design of new projects for the entire city. Most Planning Commissioners are not experts in the areas of design or architecture. We need to have an Architectural / Design Review Commission comprised of people who are professionals in those areas.
Also, establishing a separate commission for architectural and design review will help lessen the potential for bias. Planning Commission design review subcommittee members have direct interaction with an applicant at design review, which is prior tothe public hearing, and they may become too vested in the project. Beverly Hills has both an Architectural Commission for design review of commercial projects and a Design Review Commission for design review of residential projects. This allows its Planning Commission to be focused on issues related to planning.
MATT RALSTON
Most of the residents of Norma Triangle that I have talked to are in favor of it, so clearly I must side with them. It's a beautiful neighborhood and it would be unfortunate to see it further encroached by giant tacky houses that don't fit the aesthetic and look ridiculous.
I have yet to accurately gauge how Eastside residents feel about this. I would commission a poll and do some outreach, and then do what the residents want. That's the job of a council member after all – to represent the people. Not the other way around.
TRISTAN SCHUKRAFT
Overlays ensure that the mass, scale and proportion of new buildings or major additions to existing buildings in the neighborhood complement those of existing houses, so each neighborhood has to be considered independently. I would need to sit down with residents and understand their desires, before we do something that restricts the property owners' rights and prevents a property owner from developing guest quarters for their elderly parent or second floor for their expanding family. .
Question No. 7: The City Council often is asked to enact exceptions to the existing General Plan and to the existing zoning ordinance for specific developments. If the city is going to waive rules and regulations meant to apply to everyone to help out a specific developer, what should it expect that developer to give back in return?
JOHN ALLENDORFER
I believe if the city is going to waive rules and regulations only after careful scrutiny for a new project there should be some monetary funds given to the city, for example like to the Affordable Housing Trust Fund to offset development impact and generate resources to meet the increasing need for affordable housing.
LARRY BLOCK
We are allowed up to four exemptions to the General Plan per year. It's General – Not Specific. There are many reasons we can justly allow changes to the general plan. This question is misleading — "is the city going to waive rules" — an amendment to the General Plan is allowed. It should not be classified as a "waiving of rules." And the classification "to help a specific developer" implies favoritism, versus just judging the merits of the item in question. How about a brand new idea? Have the developer put 10 percent of the value of the project into the affordable housing trust fund in cases that require an amendment to the General Plan.
JOHN D'AMICO
First and foremost the residents should receive a complete and open process, one that does not look to divide the community. The city does not allow spot zoning, that is against the law. The city has development agreements that look to provide "public benefit" in exchange for allowing a certain development or set of developments on a particular parcel or parcels. These agreements, in the past, have brought us additional affordable housing, additional parking, one-time and ongoing payments into the General Fund.
Though they bring some good, they are often divisive and leave residents feeling cheated. A typical agreement adds another story or two to the project and $1 million dollars to the city coffers, and the residents bear the brunt of the over-development. I am not in favor of these agreements as they pertain to new buildings. I believe they make our buildings overly large and, on the whole, the benefit has not matched the enhancement given to the developer.
This is why your vote matters! You want the next City Council to have reliable partners with a better sense of the long-term impact of these shorter term agreements and who choose to limit development agreements and general plan amendments, and by extension, the size and scope and impact of new construction.
BRIAN FUNNAGAN
I believe that affordable housing is the greatest challenge facing the city at present. Developers are not going to go extinct any time soon. As our elected representatives horse trade with them, they should put the welfare of renters first and extract concessions that best serve the commonweal.
JOE GUARDARRAMA
If the city is going to deviate from its General Plan, it should only be done in extraordinary circumstances where there is a substantial public benefit. One example of this might be creating affordable housing units well above and beyond what would ordinarily be required by law. Another example might be the creation of a new city park in the same neighborhood. In essence, if the developer would like the city to deviate from the General Plan, the public MUST benefit greatly in return.
JOHN HEILMAN
The General Plan was developed with a great deal of community input. We should be very reluctant to deviate from it and should only do so when there is an exceptional benefit to the community such as additional parkland or additional public parking. The zoning ordinance is designed to implement the general plan. The zoning ordinance also contemplates that minor exceptions and deviations will occur to promote exceptional design.
LINDSEY HORVATH
Once we update the Zoning Code to support the General Plan, I think we will see fewer requests for exemptions. However, until that happens, exemptions should be allowed to benefit the community. For example, there's currently a proposed residential project that by right could be built to 70 feet, which would be out of character with the rest of the neighborhood. The developer for the project has asked for exemptions to make it smaller and better match the character of the existing neighborhood. This is the kind of attention to neighborhood compatibility we want to see with new development, so in this case I would support the exemptions that are being requested.
CHRISTOPHER LANDAVAZO
No response.
JAMES "DUKE" MASON
I think the City Council should try to limit exceptions to the existing General Plan as much as possible, regardless of what kind of incentives the developers may try to offer in return. Our General Plan was implemented for a reason, and to frequently amend it as we have done in recent years is totally counter-intuitive. In the case of the 8899 Beverly project, for example, it is not acceptable for the developers to think that by contributing an additional $250,000 to the city's Affordable Housing Trust Fund that they can essentially make any changes they want to make to the existing structure. Don't get me wrong, I support affordable housing, but that doesn't mean I think we should let them double the size of a building that is already in violation of the zoning codes (it was built in the 1960's before the city's incorporation).
LAUREN MEISTER
Businesses and residents worked for years to come to a consensus on the General Plan and it should be our guiding force for future development. Anyone who wants an exception to the General Plan should come with:
a) First and foremost, broad community support from the neighbors for their proposal;
b) Excess parking beyond what is required, and dedicate excess parking to public access at reasonable prices;
c) An investment in transportation and transit programs such as SignalSync, and expanded operations for CityLine and the PickUp shuttle;
d) For housing projects, a significant percentage of units should be set aside for workforce housing, which will be rent-controlled in the future, in order to abate the loss of rent-controlled housing in West Hollywood. This can be done through a development agreement.
Nevertheless, we must also be responsible and consider our environment, and conduct the necessary environmental studies ("EIRs"), which analyze the impacts of new development on our neighborhoods. A "Statement of Overriding Consideration" should be the rare exception, not the rule.
MATT RALSTON
What was the purpose of writing the General Plan if it was not meant to be adhered to? At that point it's just a piece of paper. Developers need to start giving back more for the opportunities we afford them, regardless of what breaks they are given.
It's ironic the people first to seek credit for writing the General Plan are the first ones who want to make exceptions to it.
TRISTAN SCHUKRAFT
I would not support any exception, unless it was for betterment of the community. The General Plan is a living document to be used a guideline, and we as a city have no control over state laws that allow developers to add additional stories for incorporating affordable housing. With that said, things often look better on paper than they do years later in reality. As such, I'd like to see revisions that clearly identify neighborhoods for single family homes, multi-unit properties and bungalows.
Question No. 8: What is your position on issues involving the city's Eastside, including:
a) The disparity between rents (they are rising) and household income (it's relatively low).
JOHN ALLENDORFER
I believe the city's Eastside has become visibly and economically stronger within the past several years with new residential and commercial development. But because of such impact there is the disparity between rents and household incomes. I would support a recommendation from WeHo housing consultant Keyser Marston Associates in recommending a 181 percent increase in the fee levies on developers of non -residential properties. This "impact fee" is designed to offset the costs to the city of commercial development. According to the KMA study (as stated in WEHOville, Jan.20, 2015), since 2002 West Hollywood has levied this fee on 17 non-residential development projects, generating $2.57 million in revenue.
LARRY BLOCK
This is a problem on all over the Westside and in many areas throughout the country. A few years ago when the housing market was soft it was a "buyers market," and many people opted to buy versus rent. In today's market, where purchase prices are at record levels and new rules require larger down payments, many cannot afford to buy anymore. Banking regulation that have affected down payments and credit eligibility do not allow many buyers to purchase and force many of these buyers into the rental market. The supply of available rental units is at a very low ebb, and thus new units coming back on market are set at new market rates that are higher due to low supply. There are many market forces at work, and this problem is not unique to West Hollywood. It's a big problem if you have to relocate. Most of us cannot afford to live in West Hollywood if we had to move.
JOHN D'AMICO
The city has just begun to see the changes coming to the Eastside. Most of these new construction projects were entitled prior to 2010 (before I was on the Council) and are only now under construction. Although they will raise the profile of the area around La Brea, they will likely not do much beyond provide a few additional cafes and neighborhood-serving stores for the residents living in the city now. There are more than 100 units of affordable housing in these buildings, but these units have not gone to WeHo residents historically; current policy means that the units will likely be filled by lottery winners from outside of West Hollywood.
Our rent control laws are sound, and will protect WeHo residents in their rent-controlled apartments. It is my position that the city needs to work with landlords to update and improve the rent-controlled buildings that the majority of us live in. Together we need to work harder to reduce the impacts new developments have on our neighborhoods. Our rent-controlled housing is our city's greatest resource that we invest the least amount of money in. We need to commit to updating our rent-controlled housing, instead of waiting for the building owners to sell, our neighbors to be thrown out, and the building to be torn down and redeveloped as a super-sized structure. That is not a sustainable model for protecting our residents or producing affordable housing.
The majority of our rent-controlled housing cannot survive another generation without attention. These buildings need new plumbing, electrical, heating, appliances, windows and insulation. I proposed in 2012 that we start a program to do just that and Council members Heilman and Land disagreed and chose to ignore the aging housing stock problem – in fact brought in outside developers and interests to protest against fixing up our housing stock. Now our buildings are three years older, and more and more of them are targets for demolition and new construction.
Without action by the City Council we are at risk of many more tenant evictions and losing the rent-controlled apartments we currently have. I propose that we not wait until it is too late.
BRIAN FUNNAGAN
The question comes down to, "Who are we as a people and what are our values." The developers want what we have. They also have the resources to fulfill our objectives. If our objectives are of a populist bent, then we convince them to do the greater good for the greater number of people.
Lyndon Johnson himself went on record as saying, "Come, let us reason together."
JOE GUARDARRAMA
This has been an issue on the Eastside for a number of years, and we need to come to a solution. Many Eastside residents are elderly or are living on fixed incomes, and their rents must be stabilized so that they are not priced out of their own neighborhood. As a city, West Hollywood has made "aging in place" a priority, and nowhere is that needed as much as on the Eastside. I will also work within the city, as well as lobbying Sacramento, to ensure that renters are protected, so that we can all continue to remain in our homes.
JOHN HEILMAN
I have been a long-time advocate of rent control. I don't want to see long-term residents priced out of the community, and our strong rent control laws provides a degree of protection for residents who have lived in West Hollywood for some time. I'm also a supporter of inclusionary housing. As new developments occur, we need to make sure we remain an economically diverse community. The new buildings on the Eastside all contain units for low- and moderate-income residents. At the former Movie Town Plaza, we will be getting approximately 75 new senior housing units.
LINDSEY HORVATH
I am committed to finding new ways to make the city more affordable. Not only do we need to protect the rent stabilization ordinance, but we also need to create new affordable housing options – for low and very low-income residents, for young professionals and for growing families. I am a renter myself and would not be able to afford to live in the city if it were not for rent stabilization, so this issue is VERY personal for me. We also need to create jobs that provide a decent living wage so that people who work here can afford to live here, and so people who live here will want to work here. Not only will that help to address affordability but also some of our traffic and parking issues.
CHRISTOPHER LANDAVAZO
No response.
JAMES "DUKE" MASON
The issue of rising rents is the defining cause of my run for City Council. West Hollywood is in danger of losing its identity. Low income people, young people, seniors, disabled people and LGBT people along with small businesses are being priced out, and because of that we are starting to lose the diverse, progressive community that makes who we are. This is particularly true on the Eastside; a one-bedroom apartment at the new Huxley building on Santa Monica and La Brea costs $2,300 a month. That's simply not who we are as a city. I have several solutions on how to solve this problem: 1). Pass small business rent control. 2). Pass Measure R, which recently passed in Malibu, here in WeHo. 3). Amend zoning laws to incentivize developers to build smaller units (aka "micro units") that people can actually afford. When it comes to income inequality, I think we need to pass an equitable minimum wage within the city, following in the footsteps of Mayor Garcetti's proposal in Los Angeles to raise the minimum to $13.25 per hour.
LAUREN MEISTER
Income inequality is a problem wherever it exists. The disparity between rents and incomes on the Eastside of West Hollywood is a symptom of our city's failure to manage its successes.
There are truly two West Hollywoods — one of the Soho House and Cecconi's, and one of Section 8 housing and other subsidies. This is because in order to chase tax revenues, the city's economic development strategy has been to attract high end retailers, hoteliers and luxury apartments, while setting aside a small number of units as affordable.
While it may pay the bills at City Hall, such a policy is unsustainable in the long term as neighborhood-serving businesses close down due to higher rents. We have to do a better job of protecting neighborhood-serving businesses that serve people of all income levels in the city and providing public parking resources to all parts of the city.
MATT RALSTON
Rents in general in U.S. cities are rising, but in WeHo to an even greater degree. With all the high rise, high end units that have been built and the staggeringly large amount that have been approved and not begun construction, landlords holding older properties tend to up their rents drastically when they get the chance in order to match the market.
This has reached crisis levels now. A low-income worker who is "Ellis'ed" out of his or her unit can no longer find housing in West Hollywood, east or west. We need a program to provide incentives to building owners to improve these older buildings. Offering zero interest loans is a good place to start.
The council speaks often about affordable and low income housing units. However, these lists are consistently closed. Now low-income workers are afraid to ask for repairs to their units, even if simple, because they fear repercussions from their landlords.
The housing on Santa Monica and La Brea on the Eastside runs up to $2500 a month for a studio. People that pay that kind of rent will not be taking a bus to get around. So these high rent buildings will have a huge impact on traffic. Our City Council for the most part is not following our General Plan as adopted. We are not following our earliest mission statement which was all about housing people could afford. We are failing.
If we're not careful West Hollywood will turn into a Manhattan situation, where only millionaires and a few lucky low-income families who essentially won the lottery will be able to afford to live here. There will be no middle. The U.S. in general is being divided between the Haves and Have Nots to a degree never before seen in history. The middle class is earning less than ever before, and the top 20 percent of earners and especially the top 1 percent are earning more than ever. (https://www.americanprogress.org/issues/economy/news/2014/12/18/101790/as-income-inequality-rises-americas-middle-class-shrinks/) As a trendsetting city we need to be the first to correct this pattern, so other cities who look to us for guidance can see it is possible for the middle class to still have a chance.
The fact is our Planning Commission and Council have consistently approved buildings only well-off people can afford to live in. Making more affordable units available is simply a matter of saying No to certain proposals and Yes to others, even if potential revenue has to be neglected in order for this to happen.
TRISTAN SCHUKRAFT
I live on the Eastside. I think it's a matter of supply and demand. Right now there is limited inventory compared to the demand, which is a problem facing all of Los Angeles. As new developments come online, the renters will be benefitting  from landlords needing to find tenants. These new developments bring new apartments, which may be more expensive, but they will include affordable housing, and with each new development comes a more competitive rental market and increased tax revenue to the city. .
b) The redevelopment of Plummer Park, and particularly whether Great Hall / Long Hall should be rehabilitated and remain in place or moved or demolished.
JOHN ALLENDORFER
As stated earlier I believe Great Hall/Long Hall should be rehabilitated and remain in place since it shows some history of our city.
LARRY BLOCK
I've answered some of this above in question No. 1, but let me broaden those comments. Today's stakeholders deserve a voice in what is to become the Plummer Park of tomorrow. The old plan was too old, we lost the redevelopment dollars, and we have learned so much from both visioning processes at Tara and West Hollywood Park. We have one major park left in the city, and that's Plummer Park. I think we should employ the same kind of visioning process for Plummer that allows citywide community input. Unless there is an overriding public benefit to tearing down Great Hall / Long Hall then I cannot see why we should demolish that building. It should be rehabilitated for the community to use. Perhaps in the future when we obtain the necessary financing we can allocate resources to develop or adapt portions of the park with a new visioning process for today's stakeholders.
JOHN D'AMICO
Great Hall/Long Hall should be rehabilitated and remain in place. I believe it is irresponsible for the city to demolish a structure listed on the National Registry of Historic places. GH/LH is a handsome, simple building with a storied past that the city can easily restore and put back into community service. We need only want to do it. There are plenty of opportunities for expanding green space and improving our park. We don't need to demolish GH/LH to keep our park a place of relaxation and community.
As always I am interested in your thoughts about our affordable, rent-controlled housing and Plummer Park. Give me a call/text 310.498.5783 or email me at ourweho@me.com
BRIAN FUNNAGAN
If we lose our heritage, we lose our souls. Great Hall / Long Hall should not be demolished. I am certainly open to creative options involving rehabilitating and/or moving it.
JOE GUARDARRAMA
Plummer Park is one of the jewels of our city, and I want to see it rehabilitated and restored to its former greatness. Great Hall/Long Hall represents a great example of Spanish architecture from before West Hollywood was even a city, and we need preserve it. In addition, I am opposed to any of the old-growth trees being torn out, as they are an inherent part of the beauty of the park.
JOHN HEILMAN
I support the rehabilitation and retention of Fiesta Hall. It is an incredible building but needs to be renovated. Great Hall and Long Hall need to be removed. They are not fully accessible for disabled residents and in poor condition. The residents of the Eastside deserve more park space. Removing those buildings would significantly increase the amount of park and open space for Eastside residents. We are currently looking at whether the buildings can be moved to a different location, but I'm not sure it will be feasible or cost effective to do so.
LINDSEY HORVATH
I believe Plummer Park is an invaluable resource on the eastside of West Hollywood and has long been treasured by Russian-speaking immigrants, families, and seniors in the community. We must do all we can to ensure that Plummer Park is the best possible park it can be for the residents who use it everyday, and that it provides ample meeting space as well as outdoor recreation and green space. Great Hall/Long Hall has already been designated historic, so for me that issue has already been addressed. The current plan for Plummer Park, which includes the possible demolition of Great Hall/Long Hall, has lost its funding, so it cannot move forward as it is. If any changes are to be proposed for Plummer Park, they should have an identified funding stream and should be thoroughly vetted by the members of the community who rely on the park for recreation. As a council member, I would strongly advocate for a completely bilingual process (English and Russian) to better engage ALL residents in the discussion.
CHRISTOPHER LANDAVAZO
No response.
JAMES "DUKE" MASON
I firmly support the protection of Great Hall and Long Hall. I think the desire of the community to see that they are protected for the future is clear.
LAUREN MEISTER
I have long stood with and supported the efforts of Protect Plummer Park, which opposes the demolition or relocation of historic Great Hall/Long Hall and the removal of old-growth trees in Plummer Park. While rehabilitation of the park can be positive, it should not come at the cost of the park's historic and natural resources.
Plummer Park was designated a state historic landmark by the state of California nearly 60 years ago. More recently, the state of California officially designated the 1938 WPA "Community Clubhouse" — Great Hall/Long Hall — as historic, and it was subsequently placed on the National Register of Historic Places by the U.S. Department of the Interior in Washington, D.C.
Great Hall/Long Hall are buildings with an abundant history. Not only did these buildings host the Audubon Society and the Russian Library for many years, but Great Hall/Long Hall was also the location where the Los Angeles chapter of the international advocacy group ACT UP met during the AIDS crisis. According to our city's General Plan, "Historic preservation is an important component of West Hollywood's urban landscape and culture… the city values and seeks to recognize its built environment, its history, and its culture." These are three good reasons to preserve Plummer Park, and they're not the only reasons… we also have the matter of the old-growth and heritage trees, which would have been destroyed had Protect Plummer Park not intervened.
Plummer Park is a true neighborhood park – and for all its supposed faults, this park works! Does this mean no changes for Plummer Park? Not necessarily. It's up to the community to come up with a new plan — one that honors the history of Plummer Park, our historic buildings and our natural resources.
MATT RALSTON
I side with the Protect Plummer Park organization. I think the proposals to tear down Great Hall/Long Hall and build underground parking are unnecessary and would not benefit the city. I go to the park all the time. I find parking fine most of the time. I like it the way the park is now. It has character. Demolishing it would be another example of some of the council member's rabid desire to knock down old buildings and build new ones for no reason other than to do it.
Regardless of the proposed redevelopments it seems certain we would lose the heritage trees, some of which are a hundred years old, not to mention the Hall would be destroyed or relocated. The Hall needs to be rehabbed. Along with illuminating our crosswalks, this is a prime example of a fairly simple action our Council could make happen. This is why cities have councils. Arrange funding for the repair of a building. The desire to tear it down and dig into the earth and knock over the trees just reflects a maniacal mentality I often see present in these matters.
We need to calm down and take a pragmatic approach. Let's repair the Hall. Trust me, if we can afford to have it demolished we can scrape together the funds to save it.
TRISTAN SCHUKRAFT
People have been talking about modifying the park for 20 years now. It's time to reach out to the community and get a consensus on what should be included and excluded. I think we can preserve the Great Hall / Long Hall and look for other areas for open space, and I believe the same is true for the parking structure. I don't think it makes sense to remove old-growth trees when talking about beautifying a park. The park is for the community, so it needs to meet the needs of the community.