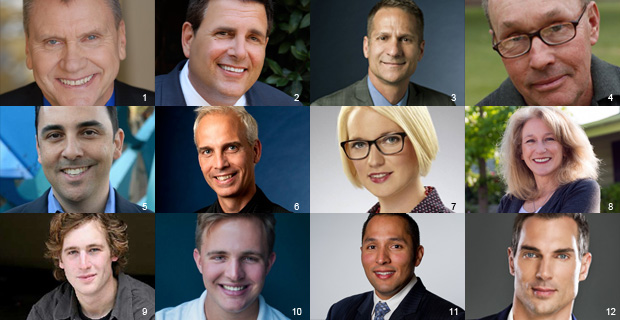 In early December, WEHOville asked West Hollywood residents what issues they wanted candidates in the upcoming City Council election to address. We received hundreds of responses and boiled them down to 13 key issues. We then asked each of the 12 candidates in the March 3 election to offer their positions on these issues. Each week through Feb. 23 we will publish one or two of the questions and the candidates' responses. Candidates spoke to their qualifications for the Council on Jan. 12 and addressed traffic concerns on Jan. 14.
Question 3: Parking, or the lack thereof, is a major problem in West Hollywood.
a) Can the city do more to address the difficulty residents have finding parking? And if so, what?
JOHN ALLENDORFER
Parking is a problem for residents, business owners and visitors and should be a priority. I don't know if the city can do more to address the difficulty residents have finding parking but definitely should try do more.  The space for residents to find more parking is very limited in their own neighborhoods already and  to find more is nearly impossible. There might be some possible arrangement to work out with the  14 city municipal garages in the city for long term parking with residents. Also new condo and apartment construction  should provide for 2 parking spaces for 2 bedroom units for residents.
LARRY BLOCK
As many of you know I've been dealing with these parking issues in front of the City Council and Transportation Commission for a few years..
Parking is a major concern among many residents but it is also a concern for many businesses.   Let's face it, most residents do have a place to park.   Most apartment buildings offer parking for their residents, and most homeowners have a driveway.  The problem with parking in certain areas of town that are very dense is the lack of available street space.   On some of those streets (such as Sierra Bonita) we can gain parking spaces by considering angled parking where applicable.   On many streets parking is not allowed at the T-intersections.   On my block of Huntley it was allowed, then we had a water main break and  public works came to do work, eliminated three parking spaces and did not allow those parking spaces to be available even after the repairs were made.   I've spoken about these T-intersections at the Transportation Commission but nothing was done.
My neighbor and I drove the city and counted 33 T-intersections, about 18 of which had no parking red zones, and the balance had parking.   Upon questioning Walter Davis and Oscar Delgado over two years ago I  was told that  "the state code requires 18 feet in an intersection so that we cannot replace those parking spaces"  So we live with half our T-intersections allowing parking and the other half in non-compliance with the state code. They said this has been this way since cityhood. I answered "that was 27 years ago!"    While I continued to press I was told it will be taken up in the near future and a decision will be made about parking in the T-intersections.   Thats was almost three years ago.
Additionally, I advocate for an all-city parking pass that allows residents to "Eat-Shop-and Play" in West Hollywood without having to pay every time they park.   Our revenue from resident parking passes was $204,000.    We can afford to give each resident a free resident parking pass.   Those parking passes should allow all residents to park in city garages for free.
In addition we need to go back to free parking on Sunday.   I have a local business, and the change in the parking meter rates and enforcing these meters on Sunday have hurt my business.  Customers complain.    The two-hour limit – and time to move your car – does not allow customers the time to meet friends for dinner and shop.   It pushes people to get in their car and move the car after two hours.    We used to have a city that had one day that people could feel that they could come to WeHo and just enjoy strolling down the street. Today you have to pay to come to WeHo and stroll down the street.
In addition we need to fix the meters.  The meters are ripping people off.   While the parking meters are state-of-the-art , the programming of them is filled with problems.   If you pay for an hour and use a half hour, the remaining time is lost, and the next person who pulls up has to pay for their own time.   We should be able to program these meters to pay for the time used.
JOHN D'AMICO
The city can do more, and is building parking structures at City Hall and at West Hollywood Park and eventually at the north end of Plummer Park that will accommodate over 500 cars. And we need to build more and require that every development provide the required number of parking spots.  We need to complete the citywide comprehensive shared parking study that looks at usage and employs strategies for opening up commercial parking at night for residents' use – and then immediately employ strategies for opening up parking lots.   Some neighborhoods and commercial areas do not have parking deficiencies, but far too many do, and I believe that once we focus on parking we can solve this problem for all of our residents. We need new Council leaders that are willing to look at new ways of identifying parking solutions.
BRIAN FUNNAGAN
Before becoming mayor of Los Angeles, Eric Garcetti advocated the parking app Park Me to help motorists find available parking spaces and cut down on driving in circles and wasting gas. More parking structures like the one at King's Road and Santa Monica Blvd, could ease the pain.
JOE GUARDARRAMA
Parking in West Hollywood has long been a source of aggravation for residents. With so many of us living in apartment buildings, many of which might not even have any on-site parking, street parking is essential. I would propose the expansion of permit parking in residential neighborhoods during both daytime and nighttime hours, but this must be done in conjunction with a decrease in the cost of permits, which are prohibitively high for some residents.
JOHN HEILMAN
We continue to look at opportunities to increase parking in the City of West Hollywood. We have added a significant number of spaces at West Hollywood Park. We will eventually have some access to the parking at the Pacific Design Center. We are building an automated parking structure behind City Hall. While these structures do not primarily address the issue of parking in residential neighborhoods, they hopefully ease some of the burden on our streets. The automated parking structure, if successful, may be a model that can be used to address the existing parking shortage in many of our residential neighborhoods. We have to remember that many of our older structures have limited amounts of parking and this creates a tremendous demand on our residential streets.
LINDSEY HORVATH
Yes. We must always work to find new ways to park cars, while exploring alternative transportation options to get more cars off the road. As a Council member, I pushed to explore public-private partnerships with lots that are not being used in the evenings. We also created 551 new parking spots during my time on Council. As a Transportation Commissioner, we created another 400 spots, while opening up more parking options with the City valet service. We can also use technology to create a parking share program, where residents can identify unused parking spots in their neighborhood to allow their neighbors to find nearby parking options.
CHRISTOPHER LANDAVAZO
No response.
JAMES 'DUKE' MASON
I think there are some very simple steps we can take to take effective action on this issue. First, we can expand the parking credits program, something that has been implemented in one district within the city and that I believe we should now expand citywide. Second, we can make public transportation more accessible. Third, we can encourage people to walk more often; after all, West Hollywood was recently declared the most pedestrian-friendly city in America. Fourth (and most important of all), we need to stop approving developments that don't provide enough parking spaces. This is a long standing issue in the city that I plan to resolve as quickly as possible if I am elected to the City Council.  
LAUREN MEISTER
The City of West Hollywood relies on parking meters and parking tickets to pay for nearly 20 percent of its annual budget — and unfortunately both our residents and small businesses have paid the price.  However, there are still ways to address our parking shortages.
While I supported trying extended times for meters in my neighborhood, it's not working for many of our small businesses or residents in other neighborhoods. I suggest we roll back extended parking meter hours to 8 a.m. to  8 p.m. and allow our residents to use their parking permits after 6 p.m. at all meters that are located on residential streets.
Residents should be allowed to buy a parking permit that allows them to park at meters within the city or in city-owned public parking lots.  This will not only allow residents to have additional opportunities for parking, it would also result in a great boost for small businesses in the area – if residents can find a meter and shop WeHo, rather than going outside the city where commercial parking is abundant and free (for two hours!), it's a win-win situation. (P.S. this idea was suggested by a WeHo resident on my listening tour.)
We must seek options to expand parking opportunities co-located with more green space. For example, at the city's Tower Records lot and Orange Grove lot, we could stack another layer of parking with a park on top.
We must work to expand the parking credits program beyond District 1 to encourage the highest use of existing commercial spaces. The more parking we have for our commercial areas, the less need for visitors and employees to be using our residential streets for parking.
We must review our parking requirements for all new developments. Is two parking spaces enough for a 2000 square foot,  two-bedroom apartment or condominium?  We should be basing our residential parking requirements on a formula that looks at both square footage and number of bedrooms, and base the requirement on whichever yields more parking spaces. We must increase the number of guest spaces required in all new residential developments so that we don't place the parking burden on our existing residents.
I am opposed to "unbundling" of parking for new developments. We must ensure that all new development — whether residential or commercial — has more than sufficient parking for its tenants, employees and visitors.
Finally, we must stop treating parking tickets as a revenue stream.  If the city relies on parking tickets for a tenth of its budget, it will never truly work to find real parking solutions.  I believe the cost of a standard parking ticket shouldn't be more than half a day's wages for someone making the minimum wage.
Until West Hollywood becomes less reliant on parking tickets and parking meters to balance its budget, we will never have sensible parking policies.  To learn more about my ideas for addressing the problem with parking, please visit: http://laurenmeister.nationbuilder.com/the_problem_with_parking
MATT RALSTON
Yes. Residents should be afforded the opportunity to park in every section of the city. There would be no harm in this. I am working on a program which would provide an incentive for businesses who share their lots with each other. For example, a restaurant which opens in the evening could allow a daytime business to have customers park in their lot, and vice versa. I die inside a little every time I am driving around looking for parking and see an empty lot with a chain in front of it. Let's help each other out.
Valet service needs to be addressed. Businesses should be discouraged from using them. All they are doing is occupying all the parking spaces so that we have nowhere to park. Then we have to pay them to park because they are using the spaces. If they want to park in public spaces they should have to pay the city a huge fee. If they want to park in a private lot, there's no action to be taken. But it is annoying.
We need to make cross-walks safe so that people feel comfortable walking, thereby opening up more spots. I would propose a CycleHop program like the one in Santa Monica which would allow people to temporarily use bicycles stationed throughout the city. They can be picked up and returned to different stations. The city of Santa Monica just approved this and it is an awesome idea. The fact that you cannot park at may stretches of meters between 4 and 7 a.m. is laughable. It encourages people to drink and drive. This is a horrible idea, and it needs to be changed. Reducing the ridiculous amount of parking attendants and their vehicles in this city would also help traffic and parking since they often park in open spots so they can write tickets.
TRISTAN SCHUKRAFT
No response.
b) In Los Angeles, there is a campaign underway to limit the amount of a parking ticket to $25, the reasoning being that tickets are supposed to dissuade people from breaking the law, not provide a source of revenue to the city. Would you support a similar limit in West Hollywood, which gets a significant portion of its revenue from parking tickets?
JOHN ALLENDORFER
Limiting parking tickets to $25 should be considered but the significant portion of revenue should be made up in other ways without sticking it to residents.
LARRY BLOCK
Yes I would support the lowering of parking fines, but it is simply not practical to do so. If Los Angeles lowers their parking fines we would probably follow suit because we tend to keep our parking ticket fines in line with our neighboring cities. Our parking contract with Circo is a multi-million dollar parking contract that services West Hollywood and many Westside cities. The goal is compliance, and the fees are high to force compliance. The monies we get from the parking citations cover a) the cost of our contract with Circo to issue the tickets, b) the cost of citation processing with Xerox, which processes the tickets and c) court fees. With all these things in mind, if ticket prices were lowered the City of West Hollywood's number one source of revenue would dry up. After paying Circo, Xerox and the court, if we weren't able to lower the expenses to issue and manage the tickets, the costs would come off of West Hollywood's revenue stream. Despite my wish that we could lower fees, it is simply not practical. My best thought is that we can mitigate future increases in these fees by negotiating better contracts with our contracted suppliers on a going forward basis. Remember, we have a minimum wage law that states all city contractors must be paid a "living wage."  Thus the cost of the tickets is a by product of expenses involved in issuing these tickets, which are reasons for these high ticket prices.
JOHN D'AMICO
Immediately.  In 2012 I tried to reduce the parking ticket fee for meter violations to $30 believing that the cost of meter violation parking tickets is  excessive and a deterrent to business. And frankly, it leaves a bad taste in the mouth of our residents and visitors about the way we run our city — using parking tickets to balance the budget when we have a $100 million surplus.  Councilmembers Land and Heilman voted to leave those fees in place and in fact voted to increase them (as did Lindsey Horvath when she was on the Council). What's important here is that current meter parking ticket fees are too high, and we should not punish our own residents and visitors for minor mistakes, but instead ensure that tickets are affordable.
I do think we need to keep fees for parking violations in residential permit neighborhoods in place to deter commercial parking spillover.  We need to keep our commercial parking and traffic out of our residential streets.
BRIAN FUNNAGAN
Not really.  Parking at the House of Blues costs $20.  The higher cost of parking tickets helps to ease congestion.  Parking tickets, unfortunately, rank up there with death and taxes: hard to avoid if not inevitable.   
JOE GUARDARRAMA
Tickets should serve as a deterrent and not be a source of revenue for the city. There is no question that parking ticket fees need to be reduced, as their current rates are punitive, especially for our residents who are either working lower wage jobs or who are on fixed incomes. While it would be premature to support a specific dollar amount before studying exactly how much we can lower ticket fees, we should start looking at alternative models to assess fee amounts, such as a modified version of the Swiss system, where fines would based upon a person's income but would ultimately be capped at a reasonable amount. Whether or not this model would be feasible in West Hollywood would be subject to study, but it is important to start looking at new ways in which we can reduce parking fines.
JOHN HEILMAN
I don't support this. If the cost of a ticket is about the same amount as the cost of parking in a commercial lot, visitors will simply run the risk of getting a ticket. This is especially true around Sunset where nighttime parking rates can be $20. Part of the reason for ticket costs to be higher is to discourage visitors from parking in residential neighborhoods and disturbing our residents.
LINDSEY HORVATH
I agree that the cost of a parking ticket is severe, and I am open to finding new and better ways to open up parking spaces in West Hollywood. The high cost of a parking ticket is to create enough of a disincentive for someone to not leave a car parked past the expiration of the permitted parking. Metered parking in commercial districts is sometimes the best option business owners have to create necessary foot traffic for their businesses, so turnover at meters is essential.
CHRISTOPHER LANDAVAZO
No response.
JAMES 'DUKE' MASON
I couldn't agree more with this proposal. I don't know about the $25 number specifically, but I think the spirit of the idea is the most important thing. West Hollywood doesn't have a problem when it comes to revenue; we are one of the most financially secure cities in America, and barring some unforeseen economic collapse, that is not going to change. We have the ability to lower parking rates as well as the costs of parking tickets without any negative impact whatsoever on our fiscal situation. It will only serve to benefit the welfare of our residents, which should be the top priority of whomever is elected to the City Council. 
LAUREN MEISTER
Yes, we need to lower the cost of parking tickets to make them less punitive and more of a deterrent.
I have proposed lowering the cost of a parking ticket to $36 because someone making minimum wage shouldn't have to pay more than half a day's salary for making an honest mistake.  We can do this and still have a budget surplus.
The city makes nearly $9 million dollars revenue in parking fines.  With cash reserves of over $100 million dollars, is this necessary?  No, it's not.
Are we helping our local businesses by charging so much for parking tickets? No, we're not. As long as the city treats parking tickets as a revenue source, it will never truly work to find parking solutions, which will lead to a reduction in the number of tickets issued.
MATT RALSTON
West Hollywood is relying way too heavily on parking fines for revenue. It is lazy and shortsighted. People are going to be less likely to visit our city when they are swarmed by meter maids and given an eighty dollar ticket because their meter expired twenty seconds ago. The parking enforcement cars constantly patrolling with their laser scanners can give the city a dystopian feel. It shouldn't be what we are going for.
$78 dollars for forgetting to put money in the meter could be the difference between a single mother buying groceries for her child or not. It's something we all do every now and then. It's a hidden tax, and is a tool to subvert tax brackets, since the money for a ticket could represent a substantial portion of income for someone earning a lower wage.You can't even park on your own street to run in and get a parking permit without someone standing behind your car and writing a ticket when you get back. I'm tired of it. We pay enough taxes that we shouldn't be hassled by parking attendants and traffic cops.
We need to work with our Tourism Board to develop more programs and events in the city to raise revenue.
One the most important issues on my platform is my development of a permanent fund. This would take a small percentage of revenue from major real estate developments and give that money directly to each member of our community.
That's a change for the people. A $25 dollar cap would be a good place to start, and a vast improvement over our current system. However I fear until we address out budget issues this could just lead to an increased rabidness of ticket writing – perhaps more frivolous traffic tickets which can run several hundred dollars. We need to stop treating the People as the enemy, or at the very least simply a source of revenue. They work for us. Not the other way around.
TRISTAN SCHUKRAFT
No response.
Question 4: Should the city extend its free Pickup shuttle all the way to La Brea Avenue, and should it offer it on other than weekend nights?
JOHN ALLENDORFER
I believe the city should extend its free PickUp to La Brea over the weekends since that end of the city has developed significantly over the past couple of years with the Westgate Target complex and the Monarch Essex. Eastside residents should have access to the PickUp as well as Westside residents especially if they are intoxicated.
LARRY BLOCK
The six-month pilot program has long passed.    It's time to make the decision to expand the PickUp line or cancel the program.   If we feel this pilot program has worked, then we need to expand it.   If we are not sure if it's working lets debate the pros and cons.   If we deem it to be a community benefit then it must be expanded to all the residents on the Eastside.    Personally I am for the PickUp line but often see an empty bus and wonder if there is a better way.   My pulse is that ridership peaks in the summer and is lower for the better part of the year.   Our costs for running the PickUp line are the same for 10 riders or 100.   Judging from the statistics of the ridership,  we might save money by issuing $10 vouchers to each rider and giving the private sector and the shared economy businesses the opportunity to fill the void.
JOHN D'AMICO
Yes.  I was happy to sponsor the Council item that invented the PickUp line.  This was the result of listening to community members who asked for a safe, convenient way to avoid nighttime driving and parking woes so as to enjoy our nightlife with their friends.  And what a big success it has been.
Increasing ridership demands that we run the shuttle to La Brea and on Thursday evenings and Sunday afternoons. And as part of a comprehensive transportation plan we should investigate running the shuttle to the Redline station at Highland and Hollywood and eventually have a second set of shuttles that run on Sunset Boulevard.
This is new generation, 21st Century thinking and planning are necessary for transportation success.  We know that there are many young people who will use transit if we provide it and maintain it in a safe and convenient way. As always I am interested in your thoughts about parking and the PickUp line.  Give me a call or text at 310.498.5783 or email me at ourweho@me.com
 BRIAN FUNNAGAN
Absolutely.  WeHo is known worldwide as an entertainment zone. Let's make it easier and safer for shoppers as well as revelers.
JOE GUARDARRAMA
Provided that the city has the financial resources to support its expansion, I would be in favor of operating the PickUp down to La Brea Avenue on both weeknights as well as weekends. The PickUp shuttle service has been a great success, and one that we should be justifiably proud of. West Hollywood has one of the highest rates of motor vehicle collisions involving alcohol and alcohol-related deaths in Los Angeles County, and the PickUp shuttle provides a way to safely transport bar and nightclub patrons who may have had too much to drink and keep them off the roads.
JOHN HEILMAN
We should extend the Pickup shuttle all the way to La Brea Avenue. Before we offer it on non-weekend nights, we should evaluate our other transportation needs. It might be a better use of our resources to provide a daytime shuttle to the Hollywood and Highland station for people who are commuting to and from work in the downtown area. This would help residents get to work and also reduce daily traffic to and from West Hollywood.
LINDSEY HORVATH
Yes.
CHRISTOPHER LANDAVAZO
No response.
JAMES 'DUKE' MASON
The simple answer to both of those questions is yes. We should look to expand the PickUp shuttle to the greatest extent possible and also look at other forms of public transportation that we can expand on, not just locally but also team up with our surrounding cities to see if there's more we can do to expand and promote public transportation on a regional level. 
LAUREN MEISTER
The city budgeted to extend the PickUp to La Brea in its 2014-15 budget.  The PickUp should be going to La Brea already, and we have to ask where that money has gone.
In addition, I would consider expanding the hours of operation to include Sunday from brunch until midnight as well as happy hour on Fridays and Saturdays.
We need to make local transit options more viable by making Cityline and the PickUp bus more practical to use and more focused on the needs of residents — for example, expanding Cityline to include "express" buses down Santa Monica and Sunset, and creating a Cityline connection to the Red Line subway in Hollywood.
MATT RALSTON
Yes. Definitely.
TRISTAN SCHUKRAFT
No response.