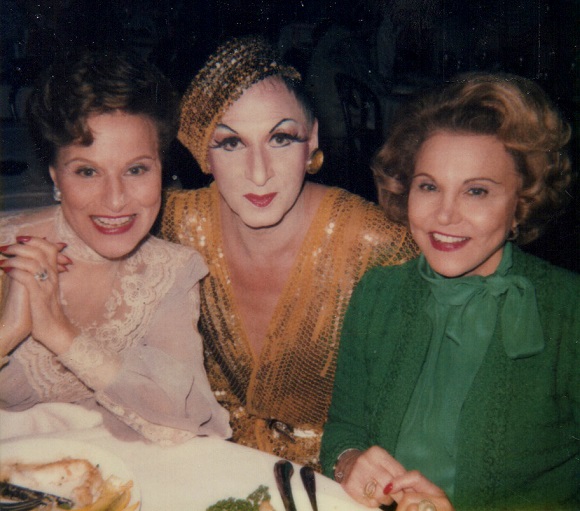 [dropcap]S[/dropcap]itting on a Starbucks patio, James "Gypsy" Haake yells out to a woman driving a black Rolls Royce convertible with the top down. He says something about how she must be having a great week, with the implication that he's complimenting her plush ride.
"It's not mine," she tells Haake, who's wearing a plaid shirt, a blue pullover and round mirrored sunglasses. "I'm just visiting."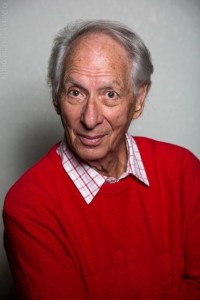 The wind tousles Haake's wispy white hair as he banters with the woman. She smiles and, with Haake's goading, waves like she's in a parade as she turns her rented luxury car out of the parking lot.
When the woman leaves the parking lot and pulls out onto Sunset Boulevard, she drives by West Hollywood locations from Haake's heyday. There's the "Riot Hyatt" (now the Andaz) where Haake remembers rehearsing for an NBC special in Little Richard's penthouse home. And there's a billboard that once touted "La Cage Aux Folles," the show that propelled Haake's show business career from the stage to the screen.
At age 82, Haake has had his share of health problems, but he keeps pulling through. He remains witty and animated, quick with a quip. A born entertainer, he's bursting to share stories and to show off his scrapbook, full of decades-old celebrity photos.
And Haake is ready to make a comeback.
He's been auditioning for commercials. He and manager Dan Gore want to create a new showroom in Palm Springs, where Haake now lives, to put Gypsy back in the spotlight. Their fundraising efforts include a Go Fund Me crowdfunding campaign. The vision is to create a dinner theatre, with high-brow female impersonator shows appropriate for all ages.
Haake grew up in New Jersey, where during high school he was the only guy in his dance class. Shortly after graduating in 1950, Haake and a friend went to an open audition. Haake got cast. He became a dancer on Broadway—that's the source of his nickname, as dancers are referred to as gypsies—and he did a show with Florence Henderson.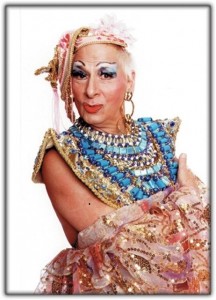 "We took different paths," deadpans Haake, who opened a cabaret club called Gypsy's in New York.
When disco and drugs eclipsed New York's cabaret scene, Haake closed Gypsy's and moved to Los Angeles. Then Vivian Blaine ("Guys and Dolls") tapped him to emcee the Folles dinner cabaret, which Lou Paciocco opened in 1981. Haake had never done drag, but since it was a female impersonator show he agreed to don gowns and heels (but no wigs or boobs, he says).
"I was fabulous and glamorous from the neck down," said Haake, who says he insured his legs through Lloyd's of London. (His photos depict colorful makeup and dramatic headpieces that suggest his glamor wasn't strictly neck-down.)
The show was staged at an upscale dinner theatre in a bright pink building on La Cienega Boulevard, where Greystone Manor now stands. Haake hosted several shows each week. Sometimes after the show he'd hit the roller rink at La Cienega and Santa Monica Boulevard, where CVS is now located, where it wasn't out of the ordinary to spot Cher.
The Folles was held in a small space—just 200 seats—and it drew people from Beverly Hills, Bel-Air and Malibu. The waiting list stretched to months-long. Almost every night, the tourists in the crowd could see celebrities sitting among them. Haake's scrapbook holds snapshots of him with household-name stars, from Lucille Ball to Hugh Hefner and advice columnist twins Pauline Friedman Phillips and Esther Friedman (aka Dear Abby and Ann Landers).
When Mel Brooks and wife Anne Bancroft saw Haake, it led to his being cast in the film "To Be or Not to Be," which starred Brooks and Bancroft. He went on to make many film and television appearances, including a role as Uncle Otto on "Married with Children."
During the time Haake was appearing in Folles, West Hollywood was incorporated as a city.
"It became political—it became OK for gay people to be political," recalls Haake, who one year served as the LA Pride parade grand marshal.
One gay man whose political career grew out of WeHo politics is John Duran, a longtime West Hollywood resident and one of the nation's only openly HIV-positive elected officials. Duran remembers seeing Haake as Gypsy in the Folles show.
"Gypsy was flamboyant, bawdy, funny and brought tears of laughter to those of us who attended," Duran said. "It was a star-studded crowd back then when actors like Charles Nelson Reilly or Paul Lynde would come in. It was a world before AIDS back then. It was a drunken brawl of laughter and comedy and a wonderful thing to do with friends who were either gay or straight and supportive."
"Then AIDS hit…. and the show and tomfoolery seemed hit by it as well. Many of us moved from middle class political indifference into rage. We started to spend more time in hospitals, and it seemed like the horror of AIDS was going to crush all of gay culture. It didn't. But it did redirect much of our free time."
Haake kept getting other roles as a performer, and the Folles eventually had to turn to others to emcee. Folles closed in 1991; Haake thinks it had just run its course.
Today, it's harder for Haake to find work as a performer. Gore—once a young fan inspired by Folles and now Haake's manager—says he used to be able to call up people who'd worked with Haake and pull strings. Now a lot of those people aren't around anymore, or if they're still living they've retired from show business.
But Haake's not ready to make his final bow yet.
"He's not going to leave us anytime soon—that's the agreement," Gore said. "He's like the Energizer bunny."