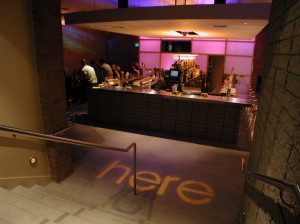 West Hollywood's Here Lounge, closed Dec. 2 by the state Department of Alcoholic Beverage Control, is reopening at 9 p.m. tonight with "Truckstop," its lesbian-themed weekly event.
ABC officials closed Here for violating "lewd conduct" laws that regulate what sort of behavior can take place where alcohol is served. The ABC citation cited conduct by go go dancers, who are employed by nightlife promoters who contract with Here, that include one dancer putting the hand of a female ABC inspector into his underwear. ABC also said that an employee had served a patron a drink without charging for it.
In an interview last month, Rogers said the one-month closure would hurt his employees, who would be without work in December. Rogers also complained that the ABC department didn't provide him with a detailed report of its allegations of lewd conduct until just before ordering the closure, although it began its investigation in May. Rogers said he would have taken steps to ensure that ABC regulations were being met if he had been alerted to any possible violations.
Rogers said the one-month shut down gave him the opportunity to thoroughly clean the club, which is located at 696 N. Robertson Blvd. south of Santa Monica. He said Here will also soon install dramatic new lighting.
On Wednesdays, Saturdays and Sundays Here will resume its gay-oriented events — "Stripper Circus" on Wednesdays, "Hooker Casino" on Saturdays and "Size" on Sundays. Here is closed the other nights of the week, although Rogers said he is pondering opening on Thursday if he can come up with an event that will attract a crowd. One possibility, he said, is a night aimed at heterosexual clubgoers.
EDITOR'S NOTE: An earlier version of this story erred in failing to mention "Stripper Circus," the Here event on Wednesdays.