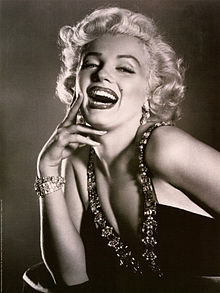 Fifty years since the death of President John F. Kenney and 51 years since the death of iconic sex symbol Marilyn Monroe, a play focusing on Monroe has returned to the stage of West Hollywood's MACHA (Mujeres Advancing Culture, History and Art) Theatre.
Although the parts have been recast and the script tweaked, it is essentially the same show that debuted at MACHA earlier this year. "This is her year I guess—at MACHA Theatre anyway," said the theater's founder and artistic director Odalys Nanín.
For the show, Nanín retooled a script initially penned by Will Manus. Long-captivated by Monroe—especially by her death— Nanín focused "Marilyn—My Secret" on what she believes to be the bombshell's "most intimate secrets." For example, Nanín believes that Monroe had female lovers and that the star had numerous abortions. And she's adamant that Monroe's death at age 36, which she believes was followed by a "complete cover-up," was not a suicide.
The play, almost but not quite a one-woman show, depicts Monroe's ghost, one night after her death, wishing for a second chance at life. That life, of course, was, beneath its glamorous veneer a famously troubled one. And some of those troubles played out in and near what later became West Hollywood.
Shortly after Monroe's divorce from Yankee "Joltin' Joe" DiMaggio, the baseball player spearheaded a raid on an apartment at 754 Kilkea Dr., where he was convinced he'd find Monroe with another man. In addition to the drunken DiMaggio, the party conducting the raid included a private investigator, the PI's assistant and singer Frank Sinatra. The men proceeded to knock down the door—then realized they'd invaded the wrong apartment
Monroe also lived in the West Hollywood area. Both she and Sinatra once had apartments at a building located on Doheny Drive. That building was sold earlier this year for $3.7 million.
Tickets for the show at MACHA, which is at 1107 N. Kings Rd. off Santa Monica Boulevard, are $30 and available online The show, which is on Fridays, Saturdays and this coming Sunday, has had its run extended to Jan. 10, 11, 17, and 18.