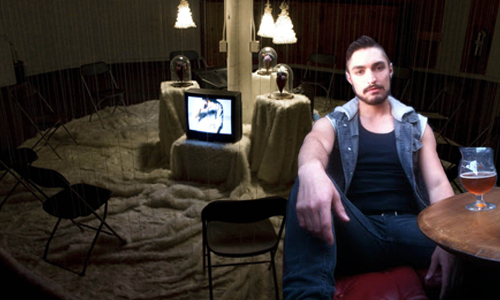 In a community where the spotlight is more often on go go dancers, drag queens, DJs and party promoters, there also exists a creative community of queer artists. WEHOville has identified a few of them and will be publishing interviews with them over coming months. Here is the final installment of a three-part conversation between Ben Cuevas, an interdisciplinary artist, and Heath Daniels, an independent film maker whose "Adults Only" has been gaining recognition at LBGT film festivals around the world.
Heath Daniels: Your art has been on exhibit at a variety of places in Los Angeles; The Antebellum Gallery, Pop tART, Knit Culture Studio. Are there any other places you would really like to exhibit?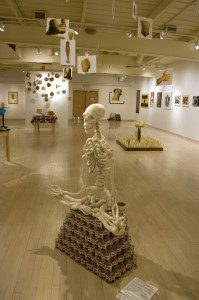 Ben Cuevas: Yes. I would love to show at Luis De Jesus. It's a very awesome queer gallery in Culver City. I would also love to show my work at any other galleries in Culver City. I really like the work they show there.
Heath Daniels: You had a show in West Hollywood — an installation piece as part of Install:WeHo a couple years ago that was an homage to gay sex truck culture of the 70s. What was the reaction to the sex culture, and where did that idea originate?
Ben Cuevas: The curator, Mark approached me. The idea was that every one would exhibit an installation inside of a truck. I wanted to do something site specific. Trucks are such charged spaces, especially for gay men — either cruising truck stops or the icon of the trucker made famous by Tom of Finland. I Googled "gay truck sex" and found this really cool blog about cruising near the West Side Highway (in New York City), under what is now the Highline. There were awesome photographs by Leonard Fink, documenting the truck cruising scene in New York back in the day.
I had a fascination with that history that I missed out on — the sexual exploration that came out of gay liberation in the Seventies. Having been born during the AIDS crisis and coming of age as a queer dude dealing with the aftermath, I felt like I had missed out on the party. It was like wanting to honor my queer sexual forefathers in a way by sort of re-imagining and experiencing what they did. So that was where my drive to put myself in the work came from, and to actually have actual guys having sex inside the truck and record it and then play it back.
Heath Daniels: The "Adults Only" installation that (Adults Only director) Michael Saul and I put together at the Antebellum Gallery came about because we really wanted to explore more of that arcade world.
We wanted to make it an interactive experience and allow visitors to be exhibitionists or voyeurs. Although the film encompasses much more than just the porn arcade aspect, we found out that a lot of gay men had never experienced porn booths or glory holes. Turning it into an art exhibit was really exciting. Plus, we had so much video footage that we weren't able to use in the actual film. It allowed me to make a whole new cut of the film to show at the exhibit. I would love if we could do it again in another gallery setting.
Ben Cuevas: That was very cool to have that immersive experience of going into the arcade. With film you can only do so much with. At the end of the day, it is a two-dimensional medium, unless you use 3-D film. Time is not counted as a dimension. It's a screen, it's something flat. But to have an actual environment that you can go in and experience — I thought that was really cool.
Heath Daniels: There is a wonderful dichotomy to your work. You embrace the feminine and the masculine. Do you feel bi-polar in your approach to your art or does it naturally blend for you.
Ben Cuevas: There are times when I feel totally bipolar in what I do. Then when I step back and take a look, I see there are connected threads. I hold these very different things within me, this sort of feeling of femininity and masculinity. I have these very feminine interests that are traditionally considered women's work and these very masculine interests and sexuality. I think it's really interesting to see how they come together. I think my "Jock Strap" piece was the best example of merging those different influences where I sat naked in a locker room and made myself a jock strap, questioning these ideas of gendered spaces and what is an appropriate activity within any given gendered space and what makes an article of clothing gendered in a certain way.
Heath Daniels:. What are you working on next?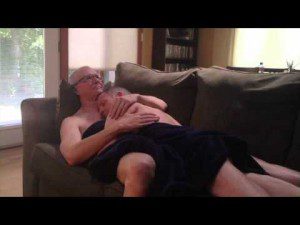 Ben Cuevas: I'm working on a music video for a BenBot 5000 single that came out a while ago. And I'm recording a new single for BenBot 5000. What about you?
Heath Daniels: I'm working on the children's book that I told you about earlier. And then I have another short film called "Ageless" that's in some film festivals right now. I did "Ageless" a few months ago in response to a call for entries for a film festival in Toronto. The parameters were to keep it under four minutes and it had to be shot entirely on an iPhone. So I wrote this film about two gay couples, one in their 50s and the other in their late 20s, and how their relationships compare to one another.
This was my first time directing something. I think that may be the next step. Directing..
I don't know about you, but in one sense I'm completely impatient about my career, about trying to get so much stuff done. But then I'm the biggest procrastinator at the same time. I mean, I will wait forever to do something. But then when I start, I want it done. It's like it has to be done right f*** now, but…
Ben Cuevas: I think you have to wait for the right moment. Some things just take time to gel and come together, and then when it's the right moment, you know and that you act on it.
Read our first two interviews with Cuevas and Daniels about how they got started and whether their art is "queer."