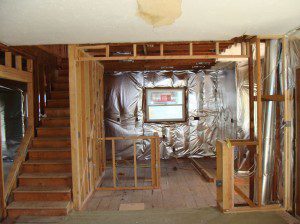 Soon it will be easier for single-family and duplex homeowners in West Hollywood to remodel their houses with changes in the remodeling permit process approved by the city's Planning Commission Thursday.
"The current process creates barriers for homeowners who want to remodel their homes," explained city planner Georgia Sheridan during the commission's meeting on Thursday night. "We're trying to clean things up to make it easier and encourage homeowners to make repairs."
Currently, if someone wants to do a minor remodel, defined as involving less than 50 percent of the house, the process for getting a permit approved by the city's planning department is fairly easy and inexpensive. But if remodelling 50 percent or more of the house requires a more complex and costly approval process.
Problems come when what initially looks to be a minor remodel turns into a major model. For example, once a wall is torn out, the owner may discover termites or structural damage and extra work is required. When a city inspector determines the 50 percent threshold has been crossed, a "stop-work order" is issued, and the owner must start the application process again, creating long delays and sometimes lawsuits against the city.
Under the new rules, the 50 percent threshold would be eliminated and permits would be issued based on the size and type of the remodeling project. A professional "certified survey" (which includes information on the building footprint, room sizes, setbacks from the property line, etc.) and accompanying photos would be required when the application is submitted for any exterior remodel and all but the most minor of interior remodels.
"The certified survey is an important real estate document to have for your house," said Commissioner Marc Yeber. "It's good to incorporate this with the permitting process."
As Sheridan explained, if an inspector has doubts about the extent of a remodeling, the certified survey and photos can serve as reference documents, thus eliminating possible fraud and potential lawsuits.
"We need some document to be sure they're not completely changing their house," said Sheridan, adding that certified surveys typically cost $1,500 to $3,500.
Additionally, property owners would be allowed to add up to 500 square feet to their homes and still get a minor remodel permit. Any addition over 500 square feet would require a major remodel permit.
"This is long overdue," said Yeber. "These changes make a lot of sense."
The City Council is expected to sign off on these remodel permit changes at its Dec. 16 meeting.
Planning manager David DeGrazia said that once a property owner has a remodeling permit approved, separate permits from the city's building and safety division are still needed before work can commence.