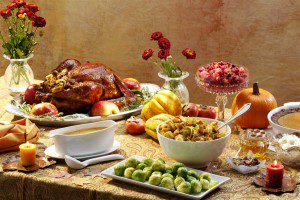 With seasonal goodwill in the air (not to mention the approaching deadline for tax deductions), many people are thinking about giving to charities. Area nonprofits are putting out calls not only for monetary donations but also for food, toys and clothing items. Here's a selection of those in the area:
• Thanksgiving Food Drive – SOVA Food Pantry
Tuesday, Nov. 24, 8:30 p.m.-2 a.m.
Viper Room
8852 Sunset Blvd. at Larrabee
$10 admission waived if you bring $10 worth of food and toiletries. Performances by Bartholomew, Elle Rae, Magic and The Intergalactix.
More info.: http://ow.ly/r1Fqk
• Thanksgiving Meal for Homeless – Pink Taco
Thursday, Nov. 28, 11 a.m. to 3 p.m.
Pink Taco
8225 Sunset Blvd.
Pink Taco and People Assisting the Homeless (PATH) serve free Thanksgiving meals to more than 500 homeless individuals and families.
• Cops4Causes- Operation Gratitude Care Packages for U.S. Troops
Through Tuesday, Nov. 26
Cops4Causes is seeking donations for care packages to go to military personnel in Germany.
Donate: http://ow.ly/r1lbq
• Food drive at House of Blues
Through Wednesday, Nov. 27
House of Blues Los Angeles
8430 Sunset Blvd. at Olive
Donate two non-perishable food items and get a free dessert
• World AIDS Day Food Drive – AIDS Project Los Angeles (APLA)
Through Sunday, Dec. 1
More information and drop-off locations: http://ow.ly/r1iOI
• "Dallas Buyers Club" Screening and Discussion
Sunday, Dec. 1, 1-4 p.m.
Silver Screen Theatre at the Pacific Design Center
8487 Melrose Ave. at La Cienega
$10 discount for bringing a food item
More info.: http://ow.ly/r1jm0
Donate to APLA: http://ow.ly/r1oDp
• Divine Design– Project Angel Food
Dec. 5-9 (Opening night shopping party on Thursday, Dec. 5)
A charity sale at which designer fashion and home furnishings and accessories are sold at deep discounts to benefit Project Angel Food.
8767 Wilshire Blvd. at Robertson in Beverly Hills
More info./tickets: http://ow.ly/r1lZe
Donate to Project Angel Food: http://ow.ly/r1mu9
• Holiday Open House and Toy Drive at Sunset Collection- City of West Hollywood and LA County Sheriff's Department Toy Drive
Friday, Dec. 6, 12-7 p.m.
Sunset Collection
8539 W. Sunset Blvd. at Alta Loma
Participating businesses will be open to the public and offer complimentary food, drinks, music and discounts. The event will feature a Santa, music from DJ Ray Mack, a raffle basket valued at $2,000 and "sexy Santas."
• Toys For Tots benefit
Dec. 6, 7:30 p.m.-1 a.m.
Viper Room
8852 Sunset Blvd. at Larrabee
Bring a toy valued at $10 or more and get a free drink.
Cherie Curie, Future Villains, Maudlin Strangers, Jonah Nimoy and The Lonely Drunks Club Band. Bring a toy valued at $10 or more and get a free drink.
Tickets $20. Admission 21 and older
More info.: http://ow.ly/r1GNp
• Toy Box Party – AIDS Project Los Angeles
Saturday, Dec. 7, 4-8 p.m.
Location TBA
An unwrapped toy is your admission to this annual party benefitting APLA.
More info.: http://ow.ly/r1naP
• Threads of Change – L.A. Gay & Lesbian Center
Sunday, Dec. 8, 12-4 p.m.
Free admission; bring a bag of gently used clothes and get a complimentary mimosa.
Eleven Nightclub & Restaurant
8811 Santa Monica Blvd. at Larrabee
More info.: http://ow.ly/r1nGw
Clothing donations can also be dropped off at the center's building at 1220 N. Highland Ave. at Lexington any day between 9 a.m.-4 p.m.
• Santa Rides a Harley toy drive – Fred Jordan Mission
Sunday, Dec. 8
Tattoo Mania
8861 Sunset Blvd. at Larrabee
Donate a toy valued at $20 or more and get 50 percent off of an $80 house minimum tattoo.
• Toys 4 Tots (And Shots)
Wednesday, Dec. 11
Rock & Reilly's
8911 Sunset Blvd. at Clark
Bring a toy valued at least $20 and get a complimentary shot of Mother's Milk Whiskey and unlimited tater tots.
• Holiday Party – Food and Toy Drive
Thursday, Dec. 12, 7-10 p.m.
Lenceria Boutique
8533 Sunset Blvd. at Alta Loma
Suite 101
Holiday party with Manhattans, bubbly and treats. Bring an unwrapped toy or food item to enter the raffle.
• Food Drive – JFS SOVA Community Food & Resources Program
Through Dec. 31
West Hollywood City Hall
8300 Santa Monica Blvd. at Sweetzer
Drop off non-perishable food items, toiletries (no glass containers) and new or slightly used children's books.
Donate to the Jewish Family Services virtual food drive: http://ow.ly/r1kgC
• Feed 4 More food drive – L.A. Gay and Lesbian Center
Through Dec. 31
Whole Foods Market- West Hollywood
7871 Santa Monica Blvd. at Fairfax
Donate cash for nonperishable food items for LGBT seniors.
Donate to the center: http://ow.ly/r1oZo