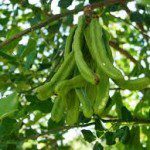 Residents of North Spaulding Avenue have complained to the City of West Hollywood about its plan to cut down carob trees on the block between Santa Monica Boulevard and Romaine Street. The city notified residents this morning that it will cut down the one-hundred-year-old trees tomorrow.
Lyndia Lowy, a resident of the block, said the trees are healthy. She said she and her neighbors suspect the trees are being removed because the city believes they will interfere with construction of a five-unit condominium building at 1040 Spaulding Ave. which has been approved to replace a three-bedroom house built in 1921. That property is owned by Stratus Urban 1040 Spaulding LLC and David Wood.
However Steve Campbell, the city's manager of facilities and field services, said the trees are in poor shape.
"We're seeing active decay," Campbell said. "Fungus and mushrooms. The inside is essentially rotting." Campbell said he also is concerned that some of the branches are starting to crack, which means they may possibly fall and damage a person or property. Campbell said the city had engaged an outside arborist to assess the health of the trees before deciding to remove them.
Carob trees, which essentially are flowering evergreens, are native to the Mediterranean and the Middle East. They produce pods that are sweet and used as an ingredient in cakes and cookies.