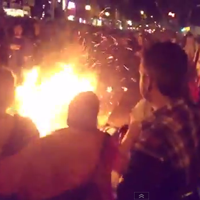 A YouTube video shot at the West Hollywood Halloween Carnaval event Thursday night shows revelers cheering shortly after a man was burned fatally on Santa Monica Boulevard.
A relative of the man and sheriff's detectives are asking people looking at the Internet video for clues as to how the man, Gilbert Estrada, who died at Cedars-Sinai Medical Center Friday morning, became engulfed in flames during a concert in the middle of the street. A detective with the Los Angeles County Sheriff's Department says the incident looks to be an accident caused when the man tried to light a cigarette and set his costume on fire.
The video shows Estrada, who appeared to be barechested, standing on the roadway, cloaked in flames. He then moves onto the grassy median of the boulevard, where he collapses.
As the surrounding crowd whooped at the spectacle, the man spun on the ground, flames reaching five feet in the air.
Warning: The video below is very graphic and includes swearing.