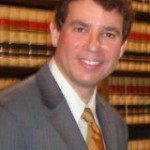 Stuart Leviton, a member of West Hollywood's Congregation Kol Ami, was recently named president of Men of Reform Judaism (MRJ), an affiliate of the Union for Reform Judaism.
Leviton is the first openly gay man to serve as president of the 90-year-old organization.
In an interview with the Jewish Journal, Leviton said "What we are trying to do is better engage and connect the men of Reform Judaism, organizationally and programmatically, so that we can be more effective in creating ultimately a more cohesive movement."
Leviton founded his own law firm and is a former co-president of Kol Ami.