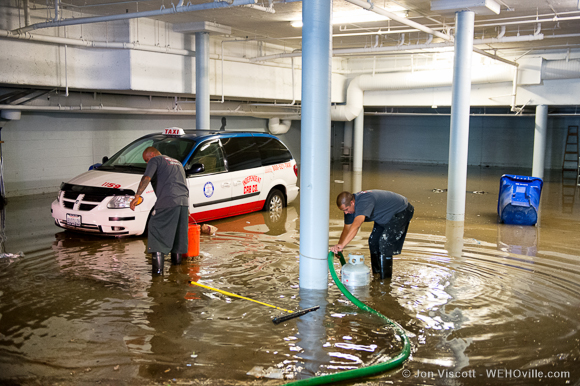 A water main break sent water cascading down two West Hollywood streets Thursday, causing some flooding and mud to flow into around 12 residential and commercial buildings.
The problem was reported about 1:25 p.m. at Formosa and Lexington avenues, Inspector Scott Miller of the Los Angeles County Fire Department said. Water was cut to about 60 nearby residents for about eight hours, according to Los Angeles Department of Water and Power.
Traffic was routed away from the area, and Formosa at Lexington is expected to remain closed through the Friday morning commute.
NBC is also reporting that a sink hole may be forming in front of the apartment where the main broke. However, authorities do not expect the hole to keep growing.
According to the Department of Water and Power, the broken pipe was an approximately 70-year-old, 12-inch cast-iron main.
About 60 DWP customers were left without water service until repairs to the main were completed around 10:45 p.m., the department's Gale Harris said.
An extensive clean-up was underway and not expected to be completed until some time Friday morning, Harris said.
The cause of the break appears to be related to the age of the main, but that has not been confirmed.