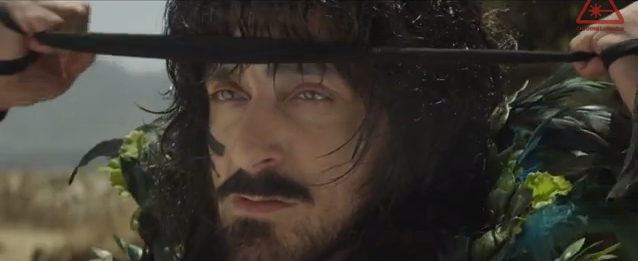 Here at WEHOville, we love a good gay web series. But we also enjoy the occasional spoof with a gay twist. Enter RAMBO, BUT GAY, a new spoof movie that remakes Rambo with homoerotic goodness.
Writer-director Michael Serrato takes a movie known for its hypermasculine brand and spins it into a gay (musical) retelling. It stars Mario Diaz (Rambo), a Silver Lake resident and one of LA's leading gay party promoters. You may know him as the guy who brought you BFD at Fubar, but he's also the originator of the famous Foxy Night at the Cock Bar in East Village, NYC (now closed). Diaz brings a hot body and excellent spoof acting to the table, so you know Rambo is in good (gay) hands.
Here's a synopsis: A hunky, tan Rambo walks into a little town called Jerkwater and runs into the celebrated sheriff (who's also a bit of a queen). From there, we see him wrangled to the police station where he's hosed off by the equally gay police force and eventually escapes into the woods. Complete with catchy songs, hilarious details (watch for how the police hold their guns) and some pretty intense special effects, RAMBO, BUT GAY has become our favorite Rambo movie yet. Here's hoping there's a second one.
Available on the Nerdist Channel and MarioDiazPresents.com, RAMBO, BUT GAY is sure to satisfy that need for a sexy, homoerotic action thriller. As the opening quote from Quentin Tarantino says, "Gay subtext always makes every movie better."
You can follow Michael Serrato (@MichaelSerrato) and Mario Diaz (@MarioDiaz) on Twitter. And read our "Saturday With…" Diaz here.
[hr]
Watch:
Like it? Tell us what you think in the comments below.