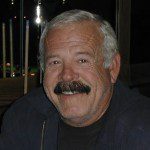 Bill Holland, owner of West Hollywood's Trunks bar, died Sunday in Palm Springs.
Holland, who was 77, was a fixture in that stretch of Santa Monica Boulevard west of San Vicente that many call Boystown for its collection of gay bars and clothing stores. Trunks, known for its pool tables and laid back atmosphere, is known for catering to a more down-to-earth crowd than that of many other bars in the area. "Gay, straight, curious – who gives a hell," Trunks proclaims on its website.
Holland was born Sept. 25, 1936, to William and Gertrude Holland in Williamsburg, VA, and served in the U.S Army. He is survived by his life partner, Joe Silva.
A memorial service was held today for Holland at Wiefels Chapel in Palm Springs. Another will be held at the same location on Saturday from 3 to 6 pm.  Holland will be buried Oct. 9 in Williamsburg, VA. In lieu of flowers, the family request that donations be made to The American Cancer Society or the American Heart Association.