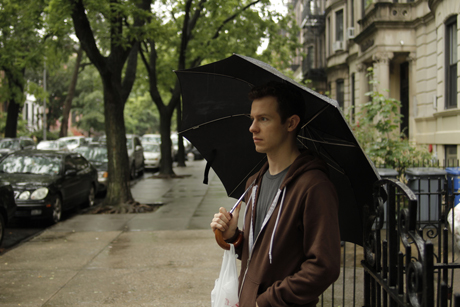 Praised by The Huffington Post as "poignant [and] intriguing" and Out.com as "addictively funny and, at times, painfully realistic," this show is one-of-a-kind in the world of gay web series.
Created by Adam Goldman and Sasha Winters, The Outs follows three Brooklynites—Mitchell (Goldman), a freelance writer; Jack (Hunter Canning), his ex-boyfriend on the path to destruction; and Oona (Winters), Mitchell's best friend and Jack's new enemy. Together(ish) they tackle life, love and breakups after Mitchell and Jack end their tumultuous relationship, including Jack's new romance with a scruffy cutie, Oona's failed attempts at relationships (and her success with a hipster hottie) and Mitchell's wavering mood as he deals with being alone. The show gives viewers a dramatic reflection on what it's like to be a wandering 20-something, single and only partly alone.
Sad and hilarious, The Outs deserves its high praise from major magazines. WEHOville is sad to see the end of its 7-episode arc. Here's hoping there's more to come!
Follow the series on Facebook.com/watchtheouts and Adam Goldman on Twitter @theadamgoldman for updates. And check out their second series, Whatever This Is.
[hr]
[hr]
Watch the First Episode:
The Outs: State of the Union from The Outs on Vimeo.