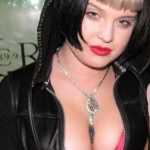 Kelly Osbourne a slob? She says not, and she's taking her West Hollywood landlord to court to prove it. According to TMZ, Osbourne is suing the landlord of her apartment at Empire West, 1100 Alta Loma Rd. near Holloway, for return of her $18,700 security deposit.
Osbourne, the daughter of the famous Ozzie and a "reality" TV star in her own right (but then, who isn't these days?) claims her landlord never checked the unit before she moved in and now is after her for damages that she didn't cause. The landlord claims he seized the deposit to cover both damages and cleanup charges.
The building, constructed in 1964, has 92 units on 17 floors, ranging from one-bedroom units to four-bedroom units. Condos and rental units are available. Four bedroom units sell for $3 million or more, and leases are comparably expensive. Other celeb tenants have included Adam Lambert, Brody Jenner. and Lindsay Lohan. Given Lohan's tenancy, apparently there is no criminal background check required to move in. Osbourne is seeking both return of the deposit and punitive damages.