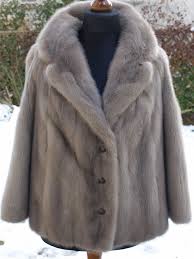 Fur may be verboten, but it's still flying in West Hollywood's tooth-and-claw battle over a ban on the sale of fur apparel. Industry group Fur Information Council of America (FICA) plans to file a complaint next week in an effort to block enforcement of the ban, which was passed by the City Council in 2011 and takes effect on Saturday.
FICA executive director Keith Kaplan said that the agency has received calls from local retailers who have questions about the ban, which he called "ill-conceived and lacking appropriate research."
"The questions arise from the numerous ambiguities found in the ordinance itself," Kaplan said via email. "In addition, a number of significant legal issues are presented by the ordinance. On the basis of these ambiguities and legal issues, our attorneys have drafted a complaint to be filed with the courts next week. A draft of this complaint has been presented to the city attorney as a courtesy.
"In addition, the attorneys have requested that the city suspend enforcement of the ban pending judicial review of the ordinance. We believe this is a reasonable request given the significant impact this ordinance will impose on local retailers."
At least one of those retailers may work a loophole: the ordinance does not ban the display of fur products. That may be to the advantage of Kitson, which has several locations in close proximity to one another, including at 8590 Melrose Ave. at Westbourne. Courtney Saavedra, Kitson's director of operations, said the store is considering putting fur items on display. Customers who spot a fur-lined vest, jacket or gloves could be directed to a nearby Kitson location—one that falls outside the WeHo border.
"It is a viable option," said Saavedra, who believes the ban will drive tax revenue out of West Hollywood. The city attracts a lot of tourists, she said, and "if they're interested in a fur product, they're going to go out of West Hollywood to buy that … we should let the market decide."
WeHo's upscale boutiques won't be moving mink stoles, but that doesn't mean the town will be totally fur-free. There are several exceptions to the new law. The ban applies to "wearing apparel" such as shoes and hats but not to items such as purses, jewelry and furniture. Residents can still don fur products purchased elsewhere, as long as they do not re-sell them. Non-profits and second-hand stores are exempt.
West Hollywood is reportedly the first U.S. city to adopt a law banning the sale of fur products.
On one hand, it's not surprising that WeHo would take such a stand. The animal-loving city has banned the retail sale of cats and dogs, and it recognizes their human companions as "guardians" rather than owners. West Hollywood has banned "pet rentals," cat de-clawing and, most recently, performances by exotic animals.
The city's website says that the ban on fur sales aligns with its reputation "as a Cruelty Free Zone for animals."
On the other hand—the one that's sporting fur-lined gloves—WeHo is a fashion hub that's home to upscale boutiques whose wares have historically included fur products. And it is home to the national headquarters of FICA, which according to its website is "the largest fur industry association representing fur retailers and manufacturers across the country who collectively account for over 80 percent of U.S. fur sales."
In 2012, the city commissioned Keyser Marston Associates, Inc. (KMA) to conduct a survey to assess the ban's potential economic effects. According to KMA's October 2012 report, only 27 businesses participated in the survey; 16 of those indicated that the ordinance would negatively affect their business, with five of those suggesting it could convince them to relocate. The participating 27 businesses account for about 11 percent of the city's apparel-related businesses, according to the report. That percentage is too low to constitute a scientific sampling, the report says.
KMA estimated that tax revenue from the sale of fur products has totaled about $28,000 annually in West Hollywood.