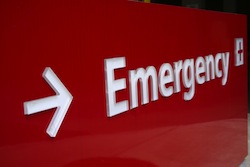 An SUV collided with a taxi and flipped over in West Hollywood this morning, injuring two people.
The crash happened around 4 a.m. at the intersection of Fairfax and Fountain avenues, said a captain with the Los Angeles Fire Department.
Two people were taken to hospitals, he said. It was unclear whether alcohol was a factor.