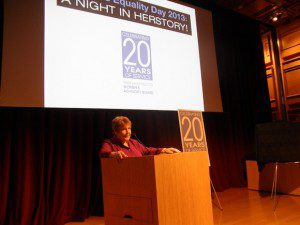 Grammy-winning feminist icon Helen Reddy enthralled a standing-room only WeHo crowd with a powerful spoken-word rendition of her megahit "I Am Woman" on Monday night. Reddy was honored at the city's celebration of Women's Equality Day, a day that was also designated Helen Reddy Day.
During the program in the City Council chambers, Reddy was honored with the unveiling of a pictorial stamp featuring her likeness. The stamp was designed by artist Nicolosi, who signed envelopes featuring the stamp design alongside Reddy after the program.
The "A Night in Herstory" event celebrated the 93rd anniversary of the 19th amendment, which gave women the right to vote. The event also celebrated the 20th anniversary of the Women's Advisory Board (WAB), which advises the City Council on issues pertaining to women.
Kafi D. Blumenfield, a member of the California Commission on the Status of Women and Girls, addressed the audience.
"We have a long, long way to go before we achieve full equality," said Blumenfield, who noted progress in many areas, such as more women going to college, but pointed out the persistent wage gap between men's and women's earnings.
Denice Labertew of Burbank agreed that a lot is left to do.
"Events like this are important because we aren't to the point where we can NOT have a Women's Equality Day," she said.
Labertew came to the event with her mother because, she said, "I learned to be a feminist listening to [Reddy's] songs with my mother."