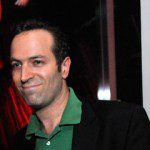 The "DumpStoli" campaign in protest of Russia's enactment of anti-gay laws has taken on more of a WeHo twist.
Larry Block, city activist, owner of the Block Party clothing store and an opponent of the DumpStoli campaign, has been chatting with the owner of Stoli himself.
Val Mendeleev, CEO of SPI Group, the Luxembourg-based company that owns the Stolichnaya vodka brand, happens to have attended Harvard Business School with Block's brother-in-law, which Block learned yesterday.
Block is part of a growing group in the gay community that has pointed out that the rush to boycott Stolichnaya vodka is misguided because Stoli isn't actually distilled in Russia (although the grain from which it is made is grown there), SPI Group isn't based in Russia, and Mendeleev is seriously out of favor with the regime of Vladimir Putin, sponsor of the anti-gay laws. What's more, as Block and others have pointed out, Stoli is involved as a sponsor in a number of gay community events.
"I'd like to raise the bar on this fight and hope to have your support," Block wrote in an email message to Mendeleev, a copy of which was made available to WEHOville. "I chair the disability board and will be running for City Council in the next election. This has divided our Russian community from the LGBT community. Not sure where to start but your life story is one that shows me that you have stood up against the Russian government and against oppression. I want to help get your message out."
"I prefer the talk to be less focused on me personally (even as I do have a personal background linked to fighting KGB and other Russian institutions) but rather on Stoli being inappropriately singled out without doing a proper research in advance," Mendeleev wrote in a reply to Block. "Hope to meet you one day."
Block is one of the few business owners on the west end of Santa Monica Boulevard who refused to participate in a demonstration last Thursday in which West Hollywood City Councilmember John Duran and owners of bars such as Micky's and Revolver poured water from Stoli bottles in a symbolic protest.
EDITOR'S NOTE: An earlier version of this story erred in stating that Larry Block's brother-in-law and Val Mendeleev attended the London School of Economics. They both attended the Harvard Business School.