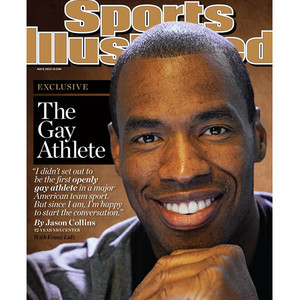 UPDATE: A previous version of this story said Jason Collins would be a featured speaker. The city has since learned that Collins is now unsure if he will be able to attend. 
Afghanistan veterans Alex Minsky and Mylee Yc will be honored at an upcoming health an fitness expo in West Hollywood.
The WeHo Buff N Cut expo, focused on active lifestyle options for local residents, will be held on Saturday, Aug. 17 from 10 a.m. to 3 p.m. at West Hollywood Park, 647 San Vicente Blvd. between Santa Monica and Melrose.
Previously, the city had announced that NBA player Jason Collins, who recently became the first active male professional athlete in a major North American sport to come out publicly as gay, would participate. However, since making that initial statement, the city has learned that Collins wants his name removed from promotional materials until he can definitively confirm his attendance.
"Mr. Collins attended the Buff N Cut event last year and we are hopeful that he will be able to attend this year as well," said Lisa Belsanti, West Hollywood's acting public information office manager.
Minsky and Yc will receive a "Rainbow Key" honor for their commitment to healthy lifestyles in the face of adversity.
Minsky lost his leg and was in a coma for more than a month after being hit by an IED (Improvised Explosive Device) while a member of the 4th Infantry in Afghanistan in 2009. After 17 months in the hospital, and a challenging road to recovery, Minksy found a new career as a model. He has appeared on "Good Morning America" and "The Tonight Show with Jay Leno" inspiring others to stay fit and make healthy lifestyle choices.
Yc has been an active duty soldier for 11 years. While working as part of the Army's Special Operations Cultural Support Program in a remote part of Afghanistan in 2011, she discovered a lump that was eventually diagnosed as Stage IIIc breast cancer. She's since had a bilateral mastectomy, a hysterectomy, radiation and chemotherapy. Yc is currently a spokesperson for Manning Up USA, and after she completes her military service she hopes to work as a trainer/coach.
"Whether you are gay or straight, single or married or even a sexy senior — West Hollywood is about gyms, yoga, spinning, running, cycling and eating right," said West Hollywood Councilmember John Duran. "This is our annual symposium to showcase all the great opportunities that exist here in West Hollywood to support a healthy body, mind and soul."
"Buff N Cut!" will feature fitness demonstrations and local trainers who lead mini-workout sessions in weight training, yoga, Pilates, boot camp, mixed martial arts and spinning.
Admission is free. Validated parking will be available at the five-story West Hollywood Park Parking Garage. For more information, call Ian Owens at (323) 848-6460 or visit www.weho.org