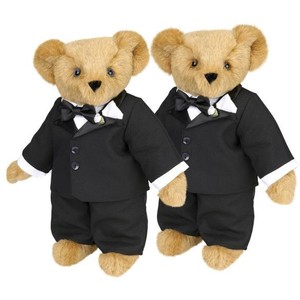 Dear Hank:
Two dear friends of mine just stopped by my apartment Friday to tell me that they've decided to get married now that same-sex marriage is legal in California. And they asked me to help plan the wedding! I introduced them three years ago, and of course I told them yes. But I need some advice. First, they are such manly men, and while I've helped heterosexual friends plan weddings, it's clear to me that these guys aren't going to be into tossing bouquets and all that stuff. They describe themselves as more Scruff than Grindr, more bear than twink, more Faultline than Rage. I don't know what all that means, but I thought it might help you come up with some suggestions.
Susie Shidduch
[hr_dotted]
Dear Susie:
A gay bear wedding! The good news, I'm guessing, is you won't have to spend lots of time figuring out how to suit up the grooms men in Gucci, making sure the servers at the reception have plucked their eyebrows properly and worrying which currently chic vodka should be used in the Cosmos.
I'm assuming the guys have rounded up an officiant (beginning today all of West Hollywood's City Council member are supposed to be authorized to perform weddings). If not, I'd consider Mayor Abbe Land. First, she's got a great smile. And the contrast between her slim figure in those sexy high heels and your big bearish buddies would make for some great photographs.
What to wear? If I were getting married (again) I'd go for jeans and a plaid flannel shirt with a pair of Red Wings. But given that this is a first marriage, I bet your friends are going to want a modicum of style. So I'd advise them to go with simple black suits and ties and white shirts, to better accent what I'm guessing is the sexy scruff on their jaws. I would insist that the grooms men dress similarly. If there are grooms women, white blouses and black slacks would be appropriate. There certainly have been much more informal bear weddings in places more enlightened than the United States. Check this video of Stuart and Oliver's gay bear marriage ceremony for an example.
In addition to exchanging rings, I'd recommend they exchange teddy bears. It's a sweet and sentimental way for rough and tumble guys to show a little romantic love. At the reception, tossing a bear into the crowd rather than a bouquet of flowers is likely to resonate more (I'd sure love to catch it. Have I mentioned that I'm single?)
For the reception, ignore those clueless heteros that might suggest the Abbey. Gay friendly as it is, it's the farthest thing from a bear cave that you can find in Los Angeles. The best place, in my humble opinion, is Oil Can Harry's in Studio City, where your friends probably already have learned to do a country/western line dance. It's been in business about 45 years now and is one of the few places in Los Angeles where a bear can growl without making a nearby twink jump in fear. While a Cosmo might be hard to come by there, you'll have no trouble ordering a PBR.
You probably also are thinking about setting up a gift registry. If clothing is on their list of gift goals, I'd suggest you check out Red Wing, Pendleton and Levi's. Yes, you can buy plaid shirts at Abercrombie & Fitch or Hollister. But really?
And how about the honeymoon? If they are asking for your help with that, I'd recommend Lazy Bear Weekend in Guerneville, which starts July 31.
Finally, I hope you'll post news of this wedding on Celebrations, WEHOville's new page celebrating engagements, weddings and anniversaries of people of any and all sexual orientations.
Here's offering a big happy growl to your friends, who are lucky to have one another and lucky to have such a thoughtful friend as you.
Grrrrrrrr,
Hank