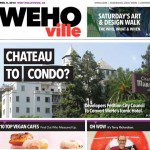 We love WEHOville. And we're guessing you do too. We have 2,300-plus Facebook likes and way more readers than any website covering West Hollywood. So it's clear that, with your input and support, we're now the go-to site for information about West Hollywood politics, personalities, nightlife, dining, arts and culture, style, shopping and just plain fun.
But some of you tell us you love WEHOville so much you want to, uh, touch it. You want to hold it in your hands, caress it when you're reading something you like, tear it to shreds when it pisses you off. Maybe even use it to pick up the poop (after reading of course) when you're walking the pooch. Many others of you tell us you want to read your news in print over the breakfast table rather than squint at a laptop screen.
So we want to create a print version of WEHOville. A free weekly newspaper for WEHOville, which we define as West Hollywood and adjacent areas that feel an affinity for our community's creativity, diversity and all around charm.
Why print, you ask? Because many people still prefer to get their news that way. So we will reach a bigger audience with both print and online editions. In West Hollywood, with our embarrassingly small voter turnout, we need to engage as many residents as possible in the discussion of important civic issues.
And print advertising is still the way that local news organizations pay their bills (ask Warren Buffett, who is buying up local newspapers by the dozens). So a print version of WEHOville will let us generate additional revenue to expand our coverage of local government, of commercial and residential development, of local business and real estate, of tourism and nightlife and of many of the other things that matter to, and define, West Hollywood.
Starting in late summer, we will distribute WEHOville in print each Thursday throughout West Hollywood and in adjacent areas to reach those folks who, while they might not live within the boundaries of West Hollywood, consider our community home.
You can help by making a contribution of any size to this effort on Kickstarter.com to help us cover the upfront cost of launching this weekly print newspaper, which we estimate will take three months to break even financially. We have a six-week deadline on Kickstarter to raise the money we need. Our mission is to help foster an informed and engaged community in a place we all love, and to promote its wonders to the world at large. If those goals appeal to you, we hope you'll help us realize them.