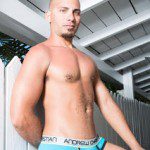 Andrew Christian Inc., the Glendale-based gay men's clothing retailer whose flagship store is in West Hollywood, has created a buzz by simultaneously mounting a safe-sex campaign while featuring a bareback porn actor in a promotional video.
San Francisco's Bay Area Reporter (BAR) called out the apparent contradiction in a story published online Monday. BAR noted that that Andrew Christian includes in its shipments of clothing to customers a postcard produced in cooperation with the AIDS Healthcare Foundation that encourages condom use. But BAR also cited a recent press release from Andrew Christian that announces: "Andrew Christian turn (sic) up the Latin heat with super hung bareback porn star Antonio Biaggi." The video can be seen online.
An Andrew Christian spokesperson denied any support for bareback sex in an interview with BAR. And an AHF spokesperson told BAR the seeming contradiction wasn't a story.