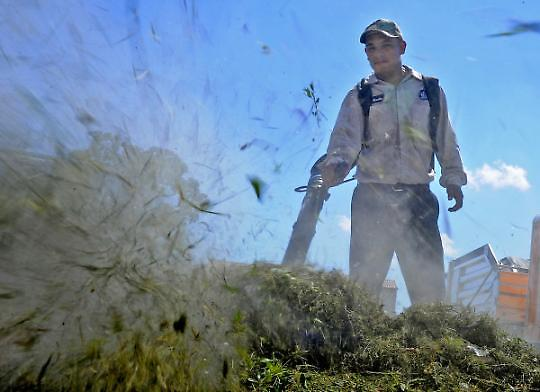 Have you noticed a fading street sign in WeHo that needs to be replaced? Or an old mattress that has been on the sidewalk too long?
What about that leaf blower driving you mad? The barking dog? A pesky pothole?
In the near future, West Hollywood wants to make reporting those problems a much easier process with a system called WeHoDirect to report such issues and track the city's effort to fix them.
"It'll be a one-stop shop," said Brian Ganley, the project's manager at the Department of Public Works. "We don't want to transfer you. We want you to be able to track the request, and we want you to get a completion."
WeHoDirect will be the public interface for a software system the city internally installed in March 2011. Delgado said his department has been in "dress rehearsal" for six months, preparing for a public presentation. The city wants to eventually include a central phone number, text-messaging capability, social media feeds, a web site and a mobile app, similar to CitySourced, an app that allows residents to report civic complaints. Potentially that would mean reporting could be done by phone, text message (with the option of attaching a photo), Tweeting, web site or mobile app. Residents could also choose the way they would like a response.
Oscar Delgado, the director of public works, said his team is still debating what to include and how to roll out the new system, which likely will launch with the phone and text-messaging numbers, followed by a web site.
A brief presentation regarding WeHoDirect was made at the April 10 Public Facilities Commission meeting.
The city has already started logging resident's calls into the new system, but hasn't publicly rolled out many of its features. In the past, requests were logged on a daily spreadsheet and then sent to contractors, such as Athens Services, which is paid by the city to handle trash services.
"So they'd check it off the list and give it back to us and say they got them, but there was no way to really track if they did it in a timely manner," said Delgado. "And then there's no reporting."
New technology software by GovPartner, a company that develops software for local, state and federal governments, including the cities of Lynwood, Calif., and Houston and Abu Dhabi of the United Arab Emirates, allows information entered by city staff members to automatically go to contractors.
The software collects valuable data for the department, Delgado said. Since using the software, the department has logged 11,790 requests.
While analyzing the data last July, Delgado said his department realized complaints regarding noisy leaf blowers were primarily coming from one area of the city — east of Fairfax Ave. — and they were coming on Mondays and Tuesdays. As a result, Delgado sent more code compliance officers into the area.
It was the "aha moment" that the new system was making a difference, he said.
"For example, if you live in West Hollywood West, where it's mostly homes, do we pick up 'bulkies' (big trash items) every 15th of the month? Or four times a month on a Thursday? It doesn't really matter. But maybe the first of the month you want to do it on Sweetzer because that's when people move out of their apartments and do this stuff," said Delgado.
"The backend information is priceless for us," he said.
When WeHoDirect launches, Ganley said the goal is to make it as easy and "friendly" as possible.
"A resident we're helping out is not going to understand what public works does," Ganley said. "What is solid waste? What is the jargon at city hall? We want it to be so you don't have to understand that."
Public work's potential app comes on the heels of LA's own version.
In mid-March, Los Angeles launched My LA 311, an iPhone and Droid app that allows residents to report abandoned furniture, fallen trees, potholes, graffiti and more. Users can attach photos of service requests and use GPS to geotag the location when reporting to the city. The cost for developing the app was $130,000.
Councilman Eric Garcetti — also a frontrunner in the mayoral race — developed a similar app for his Silverlake-area district more than a year ago.