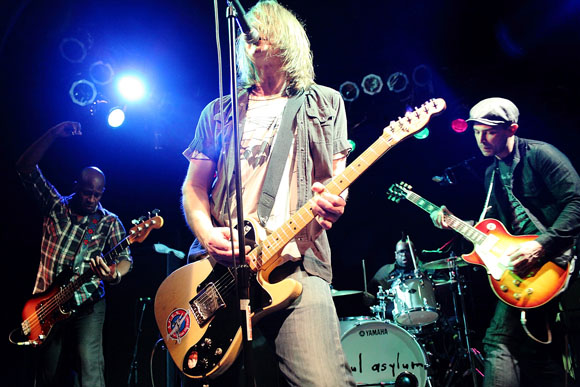 Soul Asylum is the story of a hard-working band formed in 1981. You've probably heard the song that made the band triple platinum ("Runaway Train"), even if you don't know who sings it.
It took the alternative rock band Soul Asylum 11 years to reach mainstream success. Here's a band for the little guy (and girl) who don't quite fit in with mainstream music's listening parameters. The band's songs tackle relevant social and political topics with an unflinching gaze.
Frontman Dave Pirner and Soul Asylum have a new album, "Delayed Reaction," and they pull into the Roxy Theater on Friday night (April 5).
The band's name comes from a song Pirner wrote with the same title.
"I think that it was kind of talking about being within and without," Pirner said. "How you can sometimes feel trapped inside your own explosive situation."
Seattle grungesters like Nirvana, Pearl Jam and Alice in Chains made their flannel thrift shop debuts on MTV by 1991. Perhaps it was this movement that finally adjusted the world's ears to the Soul Asylum sound.
"We didn't have any aspirations to do anything but make records on an indie label and play crappy little clubs," said Pirner. "You spend, however many years we spent, living like animals in a van … we kinda got a little bit bigger budget to record and then we got to work with a producer that we always wanted to work with and then we kinda got a 'guitar tech.'"
Pirner admitted, "I was terrible about keeping my guitar in tune."
After more than a decade of hard work, and playing in every piss-soaked Minneapolis dive, Soul Asylum released its sixth full length album "Grave Dancers Union" in 1992. It cracked the code with unforgettable tracks, such as "Black Gold," about corporate greed and how it destroys small towns, and "Runaway Train," which illuminated America's problems with runaway teens.
Pirner still has an axe to grind when it comes to social and political issues. "I'm worried about the same things (now) and I see people being exploited and abused in the same sort of ways and I see people really just being hustled, you know."
Soul Asylum first got its momentum going in 1986 when it caught the attention of Hüsker Dü (another alt rock band from Minnesota). Soul Asylum joined Hüsker Dü on the "Flip Your Wig" tour and learned some valuable insights.
"I think what we learned the most was that you can't do it yourself," Pirner recalled. "And you can't go out there and play without any help from anybody. Really."
Today, Pirner says he has not altered his style, and he certainly has not "sold out."
"The more I explore the music industry, the more I was drawn to New Orleans. Where it's all about the music and not about the industry at all. I've been livin' in New Orleans for 14 years and I need that reality to be happening," he said.
As for the new album, aptly named "Delayed Reaction," Pirner said, "I had the most control in quite a while, but not anything that wasn't learned the hard way. And between me and Michael Bland (band drummer), we're both studio rats. I mean, we both kind of prefer just to be working all of the time and that's a gift."
Pirner remains inspired by his long journey, which now brings him to Los Angeles.
"The situation that I have going for me now has actually taken all this time to, in my humble opinion, get it right," he said.