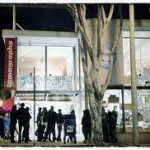 Lomography is closing on Sunday (Mar. 24) its store on the corner of Santa Monica Boulevard and Laurel Avenue. The two-story retail space, with floor to ceiling windows, has been somewhat of a visual landmark on that corner since its opening three years ago.
Unusual in this digital era, Lomography LA focused on analog cameras, in particular the Lomo Kompakt Automat, a plastic Russian camera. The camera was discovered by a group of students in Vienna who in 1992 formed the Lomographic Society International. Lomography thus became a movement as well as a physical camera.
In contrast to digital photography, Lomographic photographers embrace the optical distortions, light leaks and low-fidelity of the images they produce. The Lomographic motto is "Don't Think, Just Shoot."
It is unclear what retailer will move into the space when Lomographic have moved out.