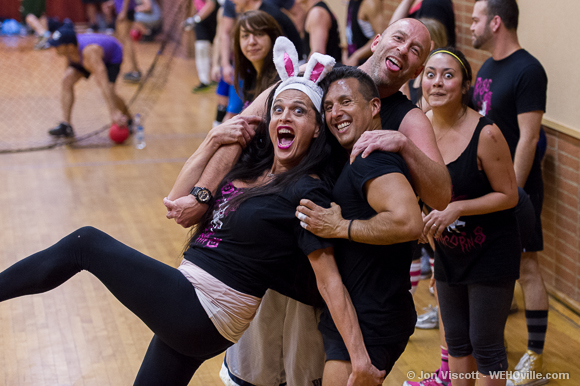 Players danced to the beats vibrating through the West Hollywood Recreation Center on Tuesday night as dodgeball week 6 got under way.
The night got off to a surprising start as No. 2-ranked Tuesday Night Lights fell behind No. 4-ranked Amazeballs in a slow first match. Teams like Amazeballs really know how to change the pace of the game to their advantage. Furthermore, the numbers were stacked against TNL as the team was down seven players. Amazeballs went on to take the win 6-2
Meanwhile, Bobbie Warriors faced off in an intense battle against BLT Pregnant. The teams were ranked No. 5 and No. 6, respectively, going into the match. Boobie Warriors took the win 7-3.
All final scores below:  
Boobie Warriors 7, Better Late Than Pregnant 3
Amazeballs 6, Tuesday Night Lights 2
Ballz Deep 6, Rise of the Unicorns 3
Power Bottoms 4, Misfits 4
D4D 4, It Gets Butter 2
Heathers 8, Not In The Face 1
See freelance photographer Jon Viscott's photos below: