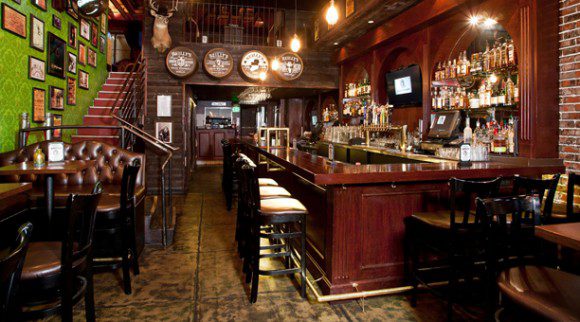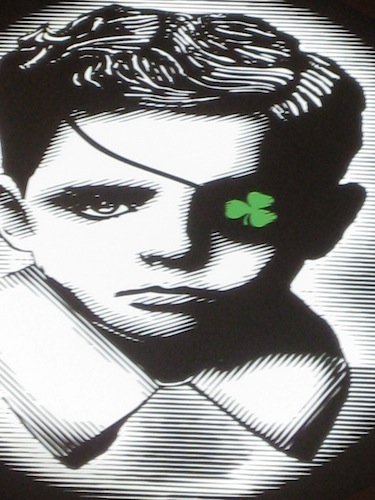 St. Patrick's Day is nigh, and for those who scoff at the holiday as "just an excuse to drink," well, you're absolutely right. And that's exactly why you should head to West Hollywood's only Irish-themed pub for Rock & Reilly's St. Patrick's Day Block Party.
In 2011, a man named Reilly opened Rock & Reilly's beside the Whisky a Go-Go, on the site of the former Cat Club. Born in Devlin, Ireland, during a bar fight, Reilly came into the world swinging. The first day of his life he lost an eye, took a man's life and instantly developed an insatiable thirst for whiskey.  When prohibition hit America, Reilly came to our shores and quickly formed the Black Eye Society. This band of misfit bootleggers commandeered the routes of the nation's milkmen, enabling Reilly to deliver whiskey door to door cleverly concealed in milk bottles – all of this according to the pub's website.
Of course, this is all fiction, but the legend of Reilly may be the most Irish thing about this bar. Unlike a great number of pubs in Ireland, no spontaneous live music is likely to erupt at Rock & Reilly's. There will be no bogger in from the fields to beat a tattoo on the "bodhrán" or to lead a sing-along of "Finnegan's Wake." Instead, patrons get a robust overhead sound system blasting Aerosmith and Journey.
After all, this is the heart of the Sunset Strip. On a typical night, Rock & Reilly's is stocked with a boisterous crowd that is hipper and more beautiful than any you will find on Dublin's Grafton Street. Consequently, chances are slim you will engage in a pithy conversation about politics or literature with a stranger as you might at an archetypal Irish pub like, say, Clancy's in County Kildare.
But what Rock & Reilly's lacks in authenticity it makes up for in good, upscale bar food and a great selection of imported cream ales, stouts and ciders. Also, the servers here are gorgeous and as sweet as the 21-year-old whiskey Reilly keeps behind the bar. It's hard to leave this place without having a good time.
When you arrive you will notice that the legend of the pugilistic owner is branded throughout the two-level pub. Whether you're downstairs sitting at the bar, at one of the high-topped tables, or on a couch upstairs in the mellower lounge, the visage of the one-eyed bootlegger is everywhere. There are even television screens that flash quotes from his tumultuous upbringing.
"F#@k milk. Where's the beer cow?"
 – Reilly, age 2
"Drink up. You're half the man my mother was!"
 – Reilly, age 6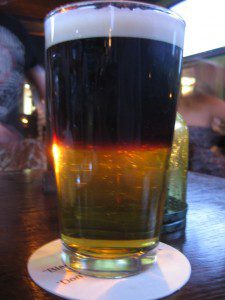 But if drinking yourself off a bar stool is not your thing, R&R has its culinary bases covered. The Irish Nachos ($10) are a stoner's revelation: homemade kettle chips topped with peppered bacon, scallions and corn salsa all beneath a blanket of sharp Irish cheddar. The Whiskey Bingo Wings ($10) are tossed in the house's signature tangy whiskey sauce and are some of the best wings in town.
The menu offers many well-crafted salads and entrees as well. Among these is a Cobb salad made with buttery Bibb lettuce, an exemplary version of fish 'n' chips and a clever take on sliders stacked with corned beef and braised cabbage – all for around $10 as well. Don't forget the house-made spicy pickles, and make sure to wrap up your meal with the magically delicious (and off-menu) "Lucky Charms Treats."
This Saturday, I imagine Rock & Reilly's will be at its most Irish and its most fun. The real owners of the pub – the swell bunch of lads behind Life of Reilly Entertainment – are getting a jump on St. Patrick's Day by hosting their 2nd annual Block Party a day early to thwart your "I've got to work Monday" excuse. The event attracted thousands last year, but not to worry, Reilly is armed with eight bars to help you celebrate. There will also be food trucks, photo booths, DJs and celebrity bartenders on hand to benefit Pencils of Promise, a charity that builds schools in areas around the world.
Whether you go for the big event or go another time, Rock & Reilly's may not immerse you in all the Emerald Isle has to offer, but it has captured that land's spirit of hospitality and its good-natured celebration of life.
So I leave you with a toast that Reilly himself would appreciate:
"When we drink, we get drunk.
When we get drunk, we fall asleep.
When we fall asleep, we commit no sin.
When we commit no sin, we go to heaven.
So, let's all get drunk, and go to heaven!"
Here's to a safe and happy St. Patrick's Day, West Hollywood.
[hr_dotted]
Rock & Reilly's 8911 W. Sunset Blvd. at Doheny, West Hollywood.
(310) 360-1400
St. Patrick's Day Block Party sprawls into the parking lots behind the bar on Saturday, March 16 from noon until 10 p.m.