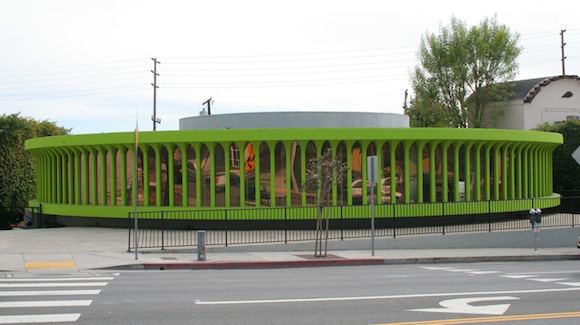 What is the story with that vaguely classical, completely circular, bright green building on Sunset Boulevard near Holloway Drive?
Would you believe that it was designed by the Brazilian master of modern architecture Oscar Niemeyer?
Niemeyer, who passed away last year at the age of 104, is known the world over for his designs and was the winner of the Pritzker Prize (architecture's highest honor) in 1988.
Notable for their monumental, curving white forms, his buildings have a sensual Brazilian bent and Niemeyer often compared these sculptural shapes to the body of a beautiful woman.
It's fitting then that our local Niemeyer-designed building was erected to house the offices of Dr. Robert Allen Franklyn, plastic surgeon to the stars.
Finished in 1967 and originally painted white, like any good modernist building, it was known at the time as the "Beauty Pavilion" and saw numerous Hollywood stars of the 60s and 70s come through its turnstiles.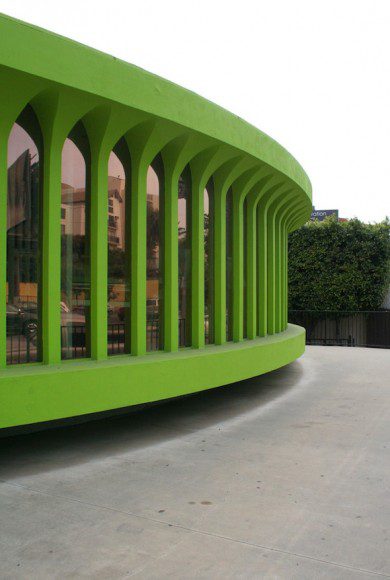 Dr. Franklyn had an obsession with round buildings, or, more specifically, with spotless symmetry. After all, he was one of the early advocates and practitioners of breast augmentation. He even wrote a book on the subject "On Developing Bosom Beauty."
Franklyn and Niemeyer, the surgeon and the architect, make an unlikely but ideal match.
Today this charming little oddity is the home of production company Mutato Muzika, the music studio of Mark Mothersbaugh. One of the founding members of New Wave band Devo, Mothersbaugh has also lent his keen composition skills to numerous films. Wes Anderson films generally carry his tunes.
After 46 years this little building (modeled after "The Forum" in Inglewood) is holding up quite well. It is amazing what a little (or more than a little) green paint can do. The literal greening of his white building might have Niemeyer spinning in his grave, but Dr. Franklyn can never say no to a facelift.
The dramatic change of hue (courtesy of Mothersbaugh) shifts this simple structure from a modern take on the Greek temple to a post-modern fantasy spacecraft — more Xanadu less Corbu.