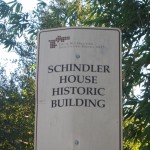 All week
"Plan Your Visit" is an exhibition exploring the complex interactions of tourism, tourist destinations and travelers. Set at a locale that is itself an international destination for Modernism aficionados, the historic Schindler House, the exhibition invites a group of artists, architects and writers to explore systems designed to activate a person's experience of a particular locale.
Participants include artists Kathrin Burmester, Ryan Griffis, Rodrigo Marti, and Tucker Neel, architect John Southern, the collaborative team of landscape architect Sonia Brenner and community researcher Maryam Hosseinzadeh, collectives Cake and Eat It and the Untitled Collective, the editors of The Art Book Review and restaurant critic Jonathan Gold.
Admission is free. Find the Schindler House at 835 N. Kings Rd. at Willoughby. The exhibit runs through April 7. The Schindler House is open Wednesday through Sunday, 11 a.m. to 6 p.m.