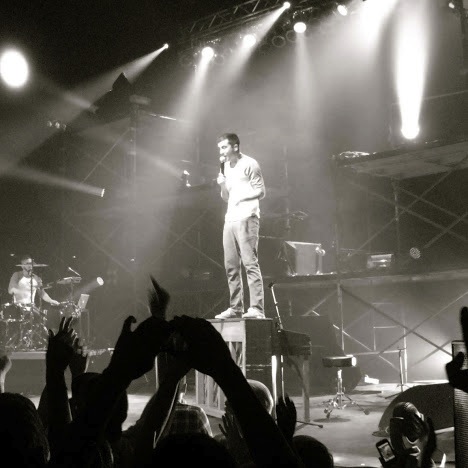 Tyler Joseph and Josh Dun make up a "schizoid pop" rock/rap/electro duo, formed in 2009 out of Columbus, OH. Together, they make up "Twenty One Pilots," one of a plethora of high-school driven acts on the Fueled by Ramen music label, including Cobra Starship, Gym Class Heros, Panic! At The Disco, Paramore and Fun.
Now, admittedly, those are all bands that would make the playlist in my own private hell, but someway, somehow, Twenty One Pilots are sold out at the Troubadour tonight.
Which made us very curious. We wanted to know exactly what they do.
Their name is derived from the Arthur Miller play, "All My Sons," in which a wartime airplane parts manufacturer knowingly produces shoddy parts.
The result? Twenty-one pilots die. In a cruel twist of fate, one of the pilots may have been the company owner's son. The owner commits suicide, driven by his guilt. (We assume this band prefers to travel by ground, which must make international travel all the more daunting.)
On this tour, Twenty One Pilots are promoting their new album "Vessel." And they're all over the place. They'll head from California to Japan, then to Korea, back to the states for South by Southwest in Austin and a performance in Florida, then on to London, before finally ending up back in the U.S. for Bonnaroo (the festival in Tennessee) and some hometown performances in Ohio.
Clearly they are working hard to fill seats.
Already, they are internationally known. They share the bill with hipster youth favorites such as Phoenix, The Silversun Pickups and play festivals with the likes of Kings of Leon and Bloc Party.
So what are we missing?
Honestly, the music is nothing new. Tracks sound like Eminem rapping over synthesizers and live drums. Although, we must respect how difficult it is to rap while playing an instrument — that should be commended. Also, their live shows are full of energy. Enough that it must be leaving a mark on their audiences, because the audiences keep coming back for more.
Oh yeah, and they are huge in Japan. Awwww … good for them. But let's be fair, the Japanese are notorious for foaming at the mouth, convulsing and fainting at the mere sight of any American band. Even if they don't know who you are.
Their message seems to be about maintaining a moral compass in a corrupt world. There is much talk about "joy versus happiness" on their site, most of which appears to be incoherent ramblings.
The fact is, this band fails to take a strong stance on any issue.
Case in point, a quote from Joseph on the band's site: "What is our purpose for playing music? We are constantly asking ourselves that question. The answer can change all the time, but for right now we are just going to stick with something as simple as 'We want to make people think.'"
"Guns For Hands" seems quasi-political based on the title, but the lyrics are non-specific and dreamy. Something an angry teen would say. Most of the tracks come off as whining, rather than rallying, making the music far more about escapism than activism.
In a modern world of war, famine and impending environmental breakdown, all Twenty One Pilots has to offer is a happy song. Perhaps that is enough.
For my money, the best two-man band in existence is Canada's Death From Above 1979, which recently got back together and is working on fresh material.
As for Twenty One Pilots, they are building a following, one rap/pop tragedy at a time. In this "American Idol" society, it's just nice to see people playing instruments and writing their own music.