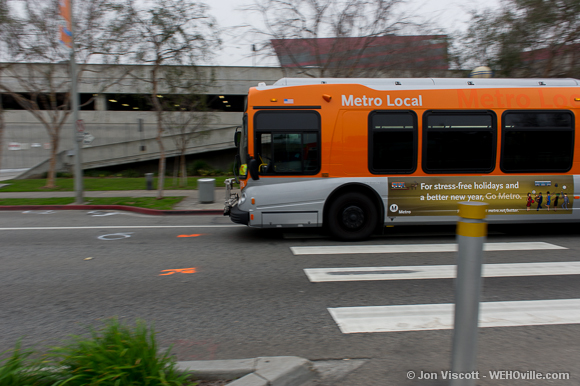 An 81-year-old man was killed and a 50-year-old man remains in critical condition after an MTA bus struck them on Santa Monica Boulevard in West Hollywood on Monday night.
The men were struck in the 8800 block of Santa Monica Boulevard, at the intersection of Palm Avenue, around 11:40 p.m. Monday, said Sgt. Andrew Bedogne of the Los Angeles County Sheriff's Department's Transit Services Bureau.
The bus involved in the crash had been eastbound on Santa Monica Boulevard when the men were hit, Bedogne said. The crossing is not controlled by a light. All lanes along Santa Monica Boulevard have since reopened.
According to NBC-LA, a preliminary investigation suggests speed was not a factor, according to Lt. Sergio Aloma, of the Los Angeles County Sheriff's Department. Investigators are trying to determine who had the right-of-way and whether the men were in the crosswalk.
The bus ended up with a cracked windshield, a news photographer reported from the scene.The victims were taken to Cedars-Sinai Medical Center, where one was pronounced dead and the other was in critical condition, Bedogne said.
Deputies from the West Hollywood sheriff's station are still investigating the incident.
– From City News Service reports