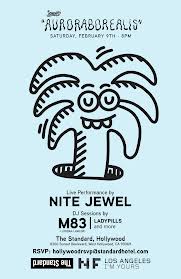 Saturday, Feb. 9
The Standard Hollywood has been transformed into a wintery-esque wonderland courtesy of National Forest's Steven Harrington and Justin Krietemeyer.
The Standard is celebrating its "Auroraborealis" exhibit on Feb. 9 with a live performance by Nite Jewel and DJ sets by Ladypills and M83's Jordan Lawlor.
Art In The Age will serve drinks, and there will be a tarot reader and adult Sno-Cones. Admission is free. RSVP to hollywoodRSVP@standardhotel.com.