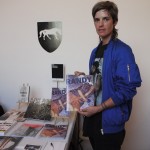 Thursday through Sunday
Printed Matter presents the first annual LA Art Book Fair at The Geffen Contemporary at MOCA.
Free and open to the public, the LA Art Book Fair is an event for artists' books, art catalogs, monographs, periodicals and zines presented by 220 international presses, booksellers, antiquarians, artists and independent publishers from 21 countries. Featured projects include an Homage to Mike Kelley presented by Gagosian Gallery, a Larry Clark pop-up shop by BOO-HOORAY and an installation by John Armleder with Three Star Books.
Fulton Ryder will present publications by John Dogg and Howard Johnson, unique books and untitled originals by Richard Prince and naughty pulp paperbacks.
An opening reception will be held from 6 to 9 p.m. Thursday, Jan. 31. The fair is open Friday from 11 a.m. to 5 p.m., Saturday from 11 a.m. to 6 p.m. and Sunday from noon to 6 p.m.