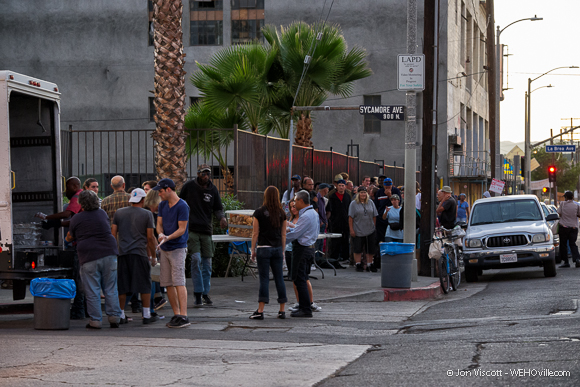 Each evening at 6:15 p.m., Ted Landreth's food truck pulls up to the corner of Sycamore and Romaine where a line of people has already formed. For many of them, waiting in an area whose landmarks include a parking lot for cement mixers, a film industry warehouse and a gay sex club, it's their first and only meal of the day.
Stationed on this corner just outside of West Hollywood, Landreth and his team at the Greater West Hollywood Food Coalition quickly prepare an assembly-line of the dishes they've brought: jambalaya, salads, a Mexican casserole, turkey sandwiches, fresh fruit and French baguettes – all donated by neighborhood restaurants, caterers and production companies that would have thrown the food away. About 50 people, whom Landreth refers to as "clients," file through, eagerly holding out their plates. It's a small number compared to the 200 clients Landreth is used to seeing – a number that's doubled since the recession, he said.
Yet even that number is too many for residents several blocks south who are trying to force the coalition and those it serves, already ousted from affluent West Hollywood, to move once again.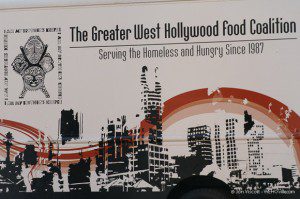 Natasha Briggs is a frequent client. After escaping an abusive marriage and then having her job as a bus-tour guide replaced by an audio recording, Briggs moves from couch to couch, staying with old neighbors and friends. The 59-year-old graciously accepts the extra sandwiches given to her by the food coalition and tucks a few free socks and a new pair of pants under her arm.
"I've been going crazy wondering if I'll ever be back to normal," she said. "I hate being in this situation."
"A lot of the people are ones who never expected to have to get free food because they were fully employed somewhere … They come to us thinking it's just going to be temporary," said Landreth, a former documentary producer with CBS. He and his wife Penny, an art teacher, have worked with the coalition since it began in 1987, serving hot meals on the street corner seven days a week. "There's a progression towards homelessness …  Many people who come to us have a place to live but can't afford to pay rent and food."
Though the food coalition was originally an idea proposed by the city of West Hollywood in 1985, the city caved to residents' complaints and evicted the coalition in 1989. At its present location of Sycamore and Romaine it faced a lot of initial criticism, which slowly abated. Now, however, that criticism has heightened.
"I don't think anyone has an issue with the feeding program itself. It's when it becomes problematic for the rest of the community," said Scott Campbell, president of the Central Hollywood Neighborhood Council that represents residents near the Sycamore and Romaine area.
The problems don't necessarily occur while the food coalition is in the area, Campbell said. "Before and after the food is handed out, the people who take advantage of the services slowly move through the neighborhood. There have been many instances of trash and disruptive behavior, including people having sex in people's front yards."
Some of the food coalition's clients, including Briggs, empathize with the residents.
"I understand how they feel," said Briggs. "But it's always a small group of people who have to ruin it for everyone else. They've been threatening to shut (the food line) down, which would be sad because it's the best one in town."
Campbell said that the neighborhood isn't against helping the homeless, but it has a different viewpoint on how the issue should be handled; namely, to focus on housing over food lines. To help with those efforts, the Central Hollywood Neighborhood Council has donated $5,000 in the past (10 percent of its budget) to People Assisting The Homeless (PATH), an organization that provides housing and other support services for homeless people in the West Hollywood area.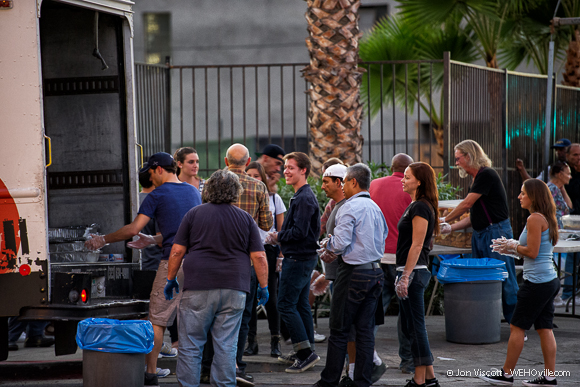 Another neighborhood group, Melrose Village, has also voiced complaints about the coalition. In October, the group posted an open letter to Los Angeles City Councilmember Paul Koretz on its blog. In the letter, the Melrose Village Blog editors used PATH to support their argument:
"An outreach worker for People Assisting the Homeless (PATH) told us that most of the homeless individuals in this area are drug addicts, alcoholics, or mentally ill (or a combination of those), and that 85% of the homeless in this area refuse help, saying they prefer to be on the streets. The food line helps them to stay on the streets. That's why PATH says that stand-alone food lines are not a good idea."
While PATH typically focuses on housing and does encounter clients who refuse help, it says it's not against food lines like the Greater West Hollywood Food Coalition so long as the programs provide connections to other services and are respectful of the neighbors.
"Folks who provide food and clothing and emergency shelter fulfill a very important need in the community," said PATH's chief development and communications officer Jeremy Sidell. "I wouldn't say anything negative about that because no one else is doing it. While we may have a different approach, in which we identify long-term housing solutions, we're not fulfilling that need (of emergency services). It's good that others are."
Landreth said he and the coalition workers go through the neighborhood on a regular basis to make sure it is clean and have tried to address the concerns they receive, many of which come through anonymous messages or complaints to the police.
"We're willing to meet with anybody or talk to anybody who can suggest a better way to do what we do. When we respond to the message and say, 'What do they mean specifically?' We usually don't hear back again … We may not be doing a perfect job as far as the community is concerned, but nobody is doing what we're doing at all," Landreth said.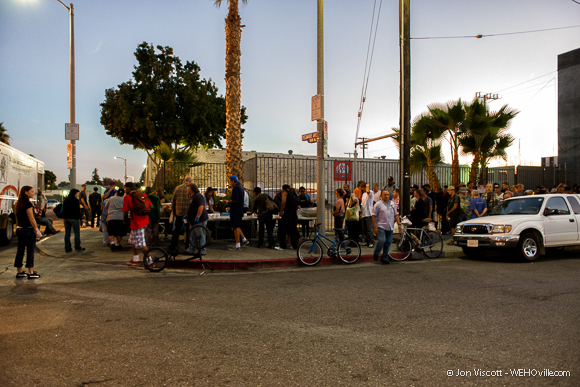 "We're hoping that someone comes along and says, 'This is the perfect building and it's free. The community supports you doing what you're doing in this building,' but over the course of a lot of years, people have said that to us but have always put the burden on us (to find a new place)."
Editors of the Melrose Village blog declined to be interviewed but did say they have not yet received a response from councilmember Koretz. His office has told them "they will receive a response at some point." Koretz's office as well as LA councilmember Tom LaBonge's office, whose district now includes Sycamore and Romaine, did not respond to interview requests.
The Melrose Village blog says there have been crimes linked to homeless people in the Sycamore and Romaine area. In particular, a homeless man was arrested in May 2012 for a 2009 stabbing of a resident on the 6400 block of Romaine Street, three-quarters of a mile east of the coalition's feeding site.
In Sgt. Jon Klaus's 19 years of experience with the Los Angeles County Sheriff's Department in West Hollywood, his biggest concerns regarding crime don't include homeless individuals.
"There aren't a whole lot of them breaking rules. There are sometimes transients sleeping where they shouldn't sleep, but we tell the residents being homeless isn't a crime. As long as they're not breaking any rules, we allow them to go where they please," he said. "We try to do a lot for both homeless and citizens. The quality of life is what (residents) are worried about with homeless not practicing hygiene."
PATH is one of few service providers in the West Hollywood area, which presents another challenge. According to Sidell, PATH is always at capacity, helping about 4,000 people each year at its multi-service center. Landreth also said he's seen an increase in clients. However, the number of homeless people in the city of Los Angeles decreased by 9 percent from 25,771 in 2009 to 23,539 in 2011­, according to the Greater Los Angeles Homeless Count's most recent report in 2011. The next Homeless Count for 2013 will come out at the end of January.
Whether the approach is providing housing or providing food, a major problem is helping homeless people who don't want to be helped.
"Our strategy is to go back and continue to engage them. Often times it takes weeks, months, even years. It's different for each client," said Sidell.
Jackie Wagner is a frequent client of the Greater West Hollywood Food Coalition but refuses to try a housing program. The 56-year-old Palos Verdes native has been homeless for the past 16 years. Battling depression and drug use, she is proud to say she is sober. After "saving up her loose change," she now lives in a van she bought.
"Some people, they all put us in the same boat, which I used to do too," she said. "But we're not all druggies … There are just certain things you don't get out of. You're not living the same lifestyle, you don't talk to the same people you used to. I lost my network. I'm over 50, and I look like a hillbilly so it's hard (to get work)."
Wagner prefers the food coalition's help over the housing approach. She was turned off after hearing a rumor that the housing options require "going through meetings and that they can barge into your room whenever they want."
The Landreths, working with West Hollywood, the Los Angeles County Housing Authority and the Shelter Plus Care program, themselves have found permanent housing for 16 of their clients over the past 18 months — many in West Hollywood.
"(After finding them housing), we're then in constant touch with them," Landreth said. "We provide continuing care and supervision so to be sure that they have access to health care, so that they can build and maintain a normal life, which is what everybody deserves to have. It's been spectacular from our point of view."
But that option is becoming less certain. Those whom have found permanent housing typically qualify for federal disability aid as well as subsidized rent through the Shelter Plus Care Program. The federal government and Housing Authority of Los Angeles granted a limited number of certificates for this subsidized housing program to the city of West Hollywood, which distributed them to homeless organizations. The coalition, as well as PATH, were able to select clients whom they felt best qualified for the program.
As the coalition's last certificate is now gone, Landreth hopes the federal government will issue another round. "It's the most effective, most transparent way of getting people off the street into decent housing, which they're likely to maintain," he said. "We don't end up putting someone in an apartment who isn't likely to stay there."
As the Landreths embark on their 26th year with the food coalition, Ted said their experiences have reaffirmed their belief that there's no "science" to solving homelessness. In fact, in his opinion, there will never be just one solution.
"The notion that you can collectivize the problem in any way is nonsense …  if we call them the homeless as one group of people then we can forget it," he said. "We're interested in helping individual people, not a group, not statistics. We're helping people as we come to know them. What better way to get to know them by giving them food?"