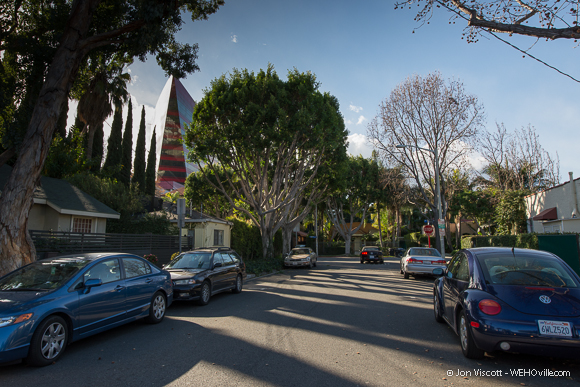 A relatively small neighborhood comprised of the area north of Melrose Avenue, south of Santa Monica Boulevard between the Pacific Design Center and La Cienega, Tri-West has a mix of single-family homes and apartment buildings. Those apartments make for a more transient population, but most apartment dwellers, like the homeowners, are in Tri West to stay.
"This has always been a little community that got along," said resident Frank D, who moved to Rugby Drive in 1962, and asked that his last name not be used to keep his privacy. "It's very safe. People know each other and look out for each other. It's a nice, comfortable feeling to this neighborhood."
Residents like being near shops, West Hollywood Park and the library.
"The best part of this neighborhood is the proximity to the many shops and restaurants that border its boundaries," said resident Larry Block. "When I moved to Huntley Drive about 10 years ago, it reminded me of where I had previously lived in New York City, between Columbus and Amsterdam on the Upper West Side."
The area is also relatively flat – no steep hills to climb, making it even more convenient to do everything on foot.
"It's a growing, trendy avenue where people could park their car for the whole weekend with everything you need within a block in any direction," said Block. "Tri-West is in the center of all of West Hollywood's main events such as the Halloween Carnaval, Gay Pride Parade and AIDS Walk."
Amenities:
Boystown
A gay old time on Santa Monica Boulevard is only a short walk north from this neighborhood, which means party boys can avoid drunk driving tickets.
West Hollywood Park
647 N. San Vicente Blvd. just north of Melrose, just a block north of the neighborhood's northern border, offers a swimming pool and tennis courts.
West Hollywood Public Library
625 N. San Vicente Blvd., also just a block north of Melrose, is the city's only library — and a great one at that. Jones offers coffee on the ground floor.