Dear Hank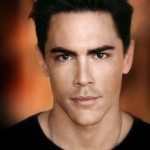 Our girlfriends forced me and a buddy to watch "Vanderpump Rules" the other night. You probably know it's a TV show about a bunch of celebrity wannabes that wait tables and work the bar at Sur, that restaurant on North Robertson. So here's the question: Is that guy Tom, the bartender, gay? The show made a big deal about him having a girlfriend named Kristen. But my buddy and I couldn't get over that scene where he's at home shaving his forehead and stressing out that he doesn't have the right hairspray. We also think it's kind of weird that he's so hairless with his shirt off. Our girlfriends are crazy about him and think we're nuts to suggest he's anything but hetero. So we all agreed to ask you. By the way, there's a lot riding on your answer. If you say he's gay, the gals have to buy us dinner — at Sur, which ain't cheap. If you say he's straight, we pay.
Harry Hetero
Dear Harry:
Well, I don't think we should make too much of the fact that Tom Sandoval got his start in the film business when he was discovered by gay filmmaker David DeCoteau, who cast him in the tastefully homoerotic horror film "Playing with Fire" (2008). DeCoteau, who got his start in the business with critically unacclaimed but brilliantly titled films such as "Creepozoids," "Sorority Babes in the Slimeball Bowl-O-Rama" and "Nightmare Sisters," has also made films under the pseudonyms Ellen Cabot and Victoria Sloan. He really made a name for himself with films such as "Playing with Fire," "Haunted Frat" and "Beastly Boys," which featured lots of young guys in their underwear in an Abercrombie & Fitch-like move to attract both gay men and straight girls.
DeCoteau acknowledges that in an interview with AfterElton.com, where he says the audience for his films is mostly gay men, "but quite a few straight girls" (maybe your girlfriend among them?). He says he doesn't know the sexual orientation of his actors, but they all are aware that his films take advantage of their "beauty" and the way they look in boxer briefs, one of his favorite items of clothing.
I'm guessing you are assuming Sandoval is gay because you live in West Hollywood, where shaving chests and foreheads and pubic hair and using lots of "product" in hair is a (thankfully fading) fad among gay men who can't let go of their adolescence. But you must remember that vacuousness and obsession with beauty are not defining characteristics of gay men, no matter how many leg shavers and eyebrow pluckers you might see at 24 Hour Fitness. I'd argue that everything you've observed about Sandoval in that first "Vanderpump Rules" episode is more typical these days of celebrity culture, where vacuousness really rules.
That said, I don't really know if Tom Sandoval is gay. I'd suggest we all stay tuned and see if Lisa Vanderpump susses that out in her weekly inquisition/staff meeting about the sexual antics of her employees. Meantime, consider going Dutch with the girlfriends for a dinner at Tortilla Republic, which is next door to Sur and quite a bit cheaper. Sorry to disappoint, but even Hank doesn't know it all, as the guy he's currently dating frequently reminds him.
Gaily yours,
Hank
Questions you can't bring yourself to ask your gay friends and neighbors? Send them to Henry@WEHOville.com.
Want more Ask a Gay? Click here.