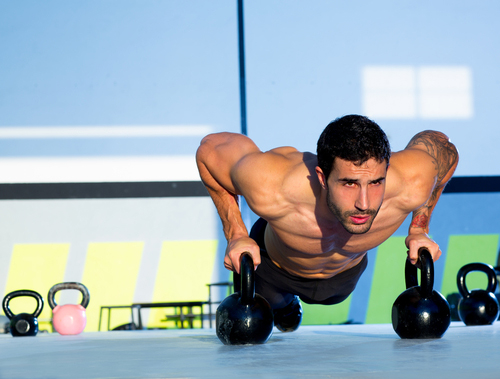 No matter your reason, we've got a WeHo workout guide for you, focusing on some of the most popular current workouts.
If you've found doing the same workout over and over is beginning to bore you, look no further — we give you plenty of options, from the old standbys (yoga, pilates, cycling and boxing) to fairly new trends (TRX, Crossfit, bootcamp drills, dancing, and yes, Pound).
Find an exercise that suits you, sign up for some classes, or a membership, and head to one of our spotlighted local gyms so you can keep that New Year's resolution:
[hr]
1. CROSSFIT
[hr]
CrossFit has exploded in popularity with the televising of the Reebok CrossFit Games on ESPN2 the last two years. With CrossFit, you often have no idea what your workout will be until you've entered the gym. And once you have entered, be prepared to work. The program uses "constantly varied, high intensity, functional movement" for short, but fierce sessions that can include everything from running to weightlifting to handstand pushups.
CrossFit training doesn't use a lot of machines. Instead, the person is the machine. Body weight exercises (pushups, pullups, etc.), standing barbell lifts (deadlifts, squats, etc.) and dynamic anaerobic exercises are the backbone of its "Workout of the Day" (WOD). Most classes are one-hour long and consist of warm-ups, skill training, the WOD and a cool-down stretching period.
Where to Find It: The Reebok CrossFit LAB just opened at 8466 Melrose Ave., just east of La Cienega. in November. Owners Ron Mathews, Yumi Lee and PJ Stahl double as coaches, and can whip you into shape for $250 a month. A 15 percent discount is offered for students, military, police, firefighters and teachers. Classes start as early as 7 a.m. and usually end at 8 p.m.
Other gyms offering CrossFit classes include Brick (7811 Santa Monica Blvd. at Orange Grove), Pink Iron (1106 N. La Cienega Blvd. at Holloway) and Body Maxx (8474 W 3rd St. at La Cienega).
What You'll Work: You'll notice the burn in your glutes, hamstrings and shoulders, but CrossFit is meant to be a full-body workout. The high intensity sessions burn a lot of calories, meaning your body will end up more defined.