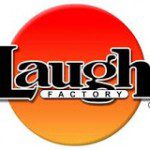 For the 33rd year in a row, the Laugh Factory is hosting a Christmas dinner offering food, fun and comedy to the homeless, the underprivileged, and anyone alone on Christmas.
Dinner will be served at 1 p.m., 3 p.m., 5 p.m., and 7 p.m. on Christmas Day at the Laugh Factory at 8001 Sunset Blvd. between Laurel Canyon and Fairfax. Top comedians including Arsenio Hall, Dane Cook, Dom Irrera, Kevin Nealon, Tom Arnold, Paul Mooney, Paul Rodriguez and Tom Dreesen will greet and help serve guests, as well as perform live shows following each of four meals served throughout the day.
"Spending the holidays alone is no laughing matter, especially in today's economy," said Laugh Factory owner Jamie Masada "Many people have no family here. We create a welcoming atmosphere of family, fun and good cheer."
For more information, please visit LaughFactory.com.