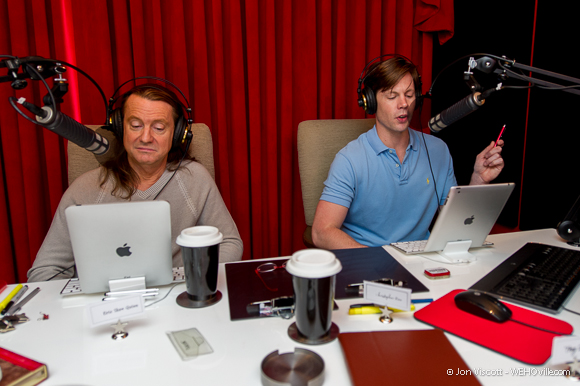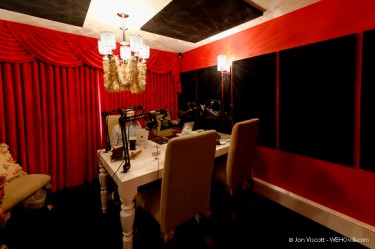 [dropcap]S[/dropcap]tudio No. 104, home of "The Dinner Party Show," is unlike other recording studios. A service tray laden heavily with champagne and top-shelf liqueurs greets guests in the foyer. Thick, red velvet curtains cover the walls. Inky black carpets, soft as sin, cover the floors. And a glass chandelier, bedecked with holiday tinsel hangs over an actual dinner table.
Compared to the damp basements, musty garages, and cramped walk-in closets where most podcasts are recorded, it is almost improbably elegant.
"The Dinner Party Show" is a new podcast from best-selling authors Christopher Rice and Eric Shaw Quinn. Rice, son of beloved vampire novel-ess Anne Rice, is known for his dark thrillers populated by richly realized and complicated characters, both gay and straight. Quinn, an actor as well as the author of "Say Uncle," a novel about a gay man living in the South who finds himself guardian of his infant nephew, admits to having no idea who Rice was 10 years ago when a mutual friend offered to introduce them.
"I thought to myself 'I am not going to help him get an agent, but whatever, he seems like a nice kid.'"
Rice later called Quinn, and left a message offering to meet him over coffee. He left his full name.
"Well, I'm not going to have to help him get an agent," Quinn realized.
The show is equal parts variety show, celebrity interviews and cultural commentary. Every episode aims to make the listener feel as though he or she has been invited to a fabulous dinner party. At their lavishly decorated studio (in the shadow of the Chateau Marmont on the Sunset Strip), Rice and Quinn discussed the perils of podcasting, celebrity guests and life in West Hollywood.
[hr]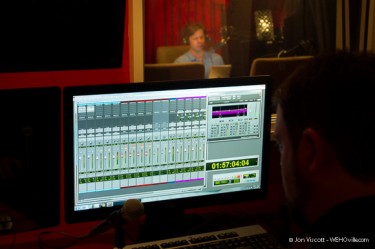 Let's get right to it. How long have you lived in West Hollywood?

Eric Shaw Quinn: I've lived here forever. Since 1991. Almost as long as there has been a City of West Hollywood.
Christopher Rice: He sprang from the soil.
E: I ran away for a year to England and when I thought of "home," this is what I thought of. I really think of West Hollywood as my home, and we've made a real effort with the show to have it be "From West Hollywood." And that's a part of the sensibility of the show. It's a character on the show in some weird way because it's indivisible from who we are, I think.
C: Still, we want it to be a national show, a global show even. Because that's how we broadcast over the Internet. We stream live on Sunday nights and anyone can listen to us. But West Hollywood is one of the characters on the show that we are showcasing to the audience.
E: It's our base of operations
C: We say "Live from the Sunset Strip" the same way Carson used to say "Live from beautiful downtown Burbank."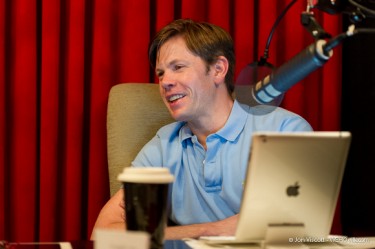 And Christopher, how long have you lived in WeHo?
C:  Well, I had kind of a false start. I moved here in 1998 after dropping out of two colleges in a row, and I decided I was going to be the next big Hollywood success story. And instead I wrote a book, which I sold to a publisher, and almost as soon as I did I moved back home. I was very young, about 21 at the time. And I was a little overwhelmed by living out here. And I didn't actually live in West Hollywood, I lived in the Valley. West Hollywood was a mysterious place that I drove through at night without ever getting out of my car.
E: He still talks about "Studio City" like he's a member of the tourism board.
C: I love Studio City! I had grown up in gothic weirdness, and suddenly I was in this squeaky clean little suburb with people walking dogs, and it was always sunny. I thought it was the neatest thing, and then I left after a year. Two years later I moved back, and moved to West Hollywood. I got a place off Sunset and Doheny, this Spanish-style duplex, and I was here.
How did 'The Dinner Party Show' come to be?
C: Eric had been talking about doing a one-man show, which was going to be a sort of Tracey Ullman-style variety show with one guy doing a bunch of different characters. Around the same time, I was approached about doing an Internet radio show at a local station in town. Ultimately, we decided to strike out on our own so we could control everything, because we are a little bit controlling. When we embarked on it we thought "It's all computers now, it'll be easy! Get some office space and throw some egg foam on the walls."
E: If we had known how much work it was going to be I don't think it would have happened. Luckily, we only found out in little horrible bursts as we went along. It took a year and a half but each new thing inspired us to take the next step. And once you are out on the limb far enough, there is no going back.
C: There was always the option of cutting corners and doing it on the cheap, which we would never do. There was always the option of "Let's just do it in our living room with minimal sound equipment," and we said we don't want to it that way. There are a lot of podcasts out there that are very raw and unedited, and we were determined to do something different, something a bit more traditional, programmed the way a live variety show would be.
E: I think it is an original idea that has some historical roots. Our original inspiration, the reason we called it "The Dinner Party Show" was Vanity Fair magazine. The original idea behind Vanity Fair, when it was first developed, as I've been told the story, was that each issue would be like you had been to a wonderful dinner party. And we thought that's the perfect sort of salon that we are trying to create. You'd get a little gossip, a little news, a little politics, and then we have some guests, some Hollywood. The mix. The highest compliments we've been paid so far are people saying "We enjoyed being at your dinner party."
C: And I think the idea was to create a space where all of these characters that we created could sit down and give a report. It is like the radio equivalent of a stage. And it's a dinner table.
E: Hence the amount of effort we went through. We are literally sitting at chairs around a dining table beneath a chandelier. We created an environment where anyone could come in and feel comfortable.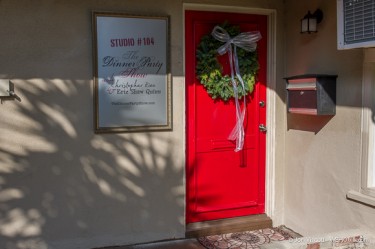 It's gorgeous in here, certainly the nicest recording studio I've ever been in.
E: We had both been in a lot of recording studios in basement apartments and horrible radio studios and we wanted to create an environment where, if we could get Madonna on the show, we'd have a space where she felt comfortable. Or Barbra Streisand, or George Clooney. Or maybe we can get Johnny Depp to come and talk to us, he lives right around the corner.
I know you are only four episodes in, but who are your favorite guests so far?
C: All of our guests have been great, but we had an experience on the last show we did with Alec Mapa and Tony Sweet where the energy in the room just exploded. We knew each other well enough that we felt comfortable with each other, and then we had this comic energy from Alec that just lit up the room. When we got home we were calling each other saying "That's what we want!" Obviously we'd like to get big names, but if we can hit that high note every episode I'll be happy.
What are the themes that unify the show?
C: We go after bigotry, sanctimony, and excess. I think good satire doesn't necessarily attack people on their principles it attacks them for their self-indulgence.
E: And self-importance. I believe the British call it "taking the piss out," really putting the pin in some over-inflated egos and sacred cows. The show's slogan is "Everybody Gets Served," so don't tune out if you get offended, because we are going after the people you hate next.
What are some podcasts and radio shows that you guys listen to?
C: We love Jack Morrissey, who does the "Team Jack" podcast. He's the partner of Bill Condon, the director. He's had me on, and he's tried to have us both on, but scheduling-wise it hasn't worked. And we are planning to have him on. He does a very witty, acerbic conversation about nerd culture.
E: The job I most want in the world, the best job I have ever seen, which informs a lot of what we are doing here (which you may not even remember) is the "Carol Burnett Show." They were having the best time. Not only was it funny and fun, but they looked like they were having the time of their lives. I want that job. That's what we are trying for.
Would you guys ever consider doing "The Dinner Party Show" as a stage show?
C: Oh God, we'd do it as anything.
E: Hahaha, absolutely. We'd do it as a stage show or a television show where we get dressed up as the characters. Christopher has suggested we do it as an animated thing.
Where do you see doing with the show and this space in the long term?
E: We have this wonderful studio space that we may make available as a rental space for other select individuals in need of space to record their own broadcasts. We are technically broadcasting now. We are actually a radio station, streaming live on the Internet. There is nothing on it except repeats of our show. But we could be streaming shows 24 hours a day. Maybe take over all of the offices in this little rabbit warren and produce a bunch of shows. Who knows what we'll do?

"The Dinner Party Show" streams live every Sunday night (8 p.m. Pacific, 5 p.m. Eastern). Listen as it broadcasts, and catch Eric and Christopher on Facebook.