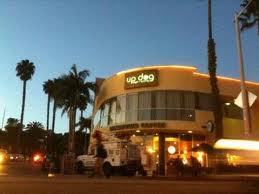 Flywheel Sports has acquired Meaghan Kennedy Townsend's Up Dog Yoga and Cycling and will reopen it as a Flywheel branch in January.
Flywheel, based in New York City, has studios in 18 cities including Chicago, Atlanta, Philadelphia and Dubai. It intends to open a Flywheel studio in Larchmont after the Up Dog Yoga transformation is complete.
Flywheel's signature exercise is a 45-minute cycling session. It also offers Flybarre, a floor-based strength and toning class using a ballet barre. It caters to an affluent audience, with a fee of $30 a class. Flywheel was founded in 2010 by Ruth Zuckerman, one of the founders of SoulCycle, an indoor-cycling studio group now owned by the Equinox gym chain and Flywheel's biggest competitor. SoulCycle has a sudios in Brentwood and opened one at Sunset Plaza at 8570 Sunset Blvd. in West Hollywood this past February.
In a departure from its usual routine, Flywheel will offer yoga classes and continue Up Dog's other offerings, all under the Flywheel brand.
Townsend opened Up Dog, located above Starbucks at 8599 Santa Monica Blvd. at Westmount, in 2010. It quickly attracted a following, with clients said to include celebrities such as Kyra Sedgwick, Drew Barrymore, Justin Timberlake, Nicole Kidman and Cameron Diaz, and was featured in national publications such as Vogue. Townsend, a native of Massachusetts whose grandfather was the late Sen. Robert Kennedy, brought to the studio a love of yoga and business acumen developed during a brief stint as a business analyst after her graduation from Harvard.