Since AIDS was first documented in 1981, more than 30 million people have died of HIV/AIDS-related causes.
Currently, more than 34 million people are infected with the virus.
To raise awareness about the AIDS pandemic, World AIDS Day was conceived in 1988. Today, government and health officials around the world observe the day.
A number of events and services are planned in West Hollywood and Los Angeles, from exhibits, to concerts, to parties. Here's a list of 10:
[hr]
(RED) Dance Party at The Standard
[hr]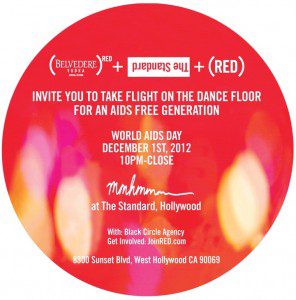 Saturday, Dec. 1, 10 p.m. – Close 
All of the Standard hotels (New York, Los Angeles, West Hollywood and Miami) will host dance parties to recognize World AIDS Day. At the Standard Hollywood (8300 Sunset Blvd. near North Sweetzer),the event will be in the hotel's club, Mmhmmm. Special RED cocktails will be on the menu.
If you're looking to party in Downtown Los Angeles, The Standard Downtown (550 S. Flower St. between Fifth and Sixth streets) will host a live rooftop performance followed by an exclusive DJ set.
Click here for more details.
[hr]
AIDS at 31: Looking Back/Looking Ahead
[hr]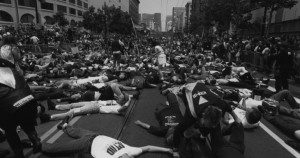 Saturday, Dec. 1, 2 p.m. – 10 p.m.
The City of West Hollywood and the ONE National Gay & Lesbian Archives have teamed up to offer a day of speakers, cinema and exhibits in the council chambers and the community room at the West Hollywood Library, 625 San Vicente Blvd.  near Melrose.
There will be screenings of "Too Little, Too Late" (1987) and "Mother, Mother" (1989) followed by a Q&A with the Emmy-award-winning filmmaker Micki Dickoff. Later in the day, there will be a screening of "An Early Frost" (1985), followed by a Q&A with the award winning writers Ron Cowen and Daniel Lipman.
Presentations about HIV/AIDS will include Dr. Michael Gottlieb's "HIV: Across the Generations" and Dr. Mark Katz's "Recollections and Collections: A Physician Remembers AIDS" plus musical performances by Cantor Juval Porat and Our Lady J. hosted by gay rights/AIDS activist Roberta Bennett.
A memorial slideshow will also be part of the day's events. To submit photos and for more information, please visit www.onearchives.org/AIDSat31.
To RSVP, call (323) 848-6460.
[hr]
AIDSWATCH
[hr]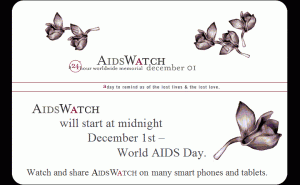 Saturday, Dec. 1, all day
Beginning at midnight on Saturday and continuing for 24 hours, Weho TV (the city TV channel)  will display the names of thousands of people who have died of AIDS, one at a time.
AIDSWATCH also will be available on the city's website at www.weho.org/wehotv.
The public is invited to contribute names of people to whom they would like to pay tribute on AIDSWATCH. Names may be added at www.aidswatch.org
For more information regarding AIDSWATCH, call (323) 848-6400. For the deaf and hard of hearing, call (323) 848-6496.
[hr]
The RED Party at Circus Disco
[hr]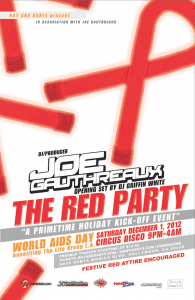 Saturday, Dec. 1, 9 p.m. – 4 a.m. 
Promoters Ray and Dante are throwing the Red Party with DJ Joe Gauthreaux at Circus Disco (6655 Santa Monica Blvd. west of North Las Palmas) to benefit Life Group L.A.
Presale tickets are start at $12.5, and can be purchased at rayanddante.com or wanttickets.com. Red attire is encouraged.
Gauthreaux, who is moving to New York City, says this will be his last event in Southern California for "the foreseeable future."
[hr]
Free HIV testing
[hr]
Saturday, Dec. 1, 10 a.m. to noon
Free HIV testing, flu shots and blood pressure screenings (plus snacks and giveaways) will be offered at the Nokia Theater L.A. Live at 777 Chick Hearn Court, at South Figueroa in Los Angeles .
[hr]
APLA Food Drive
[hr]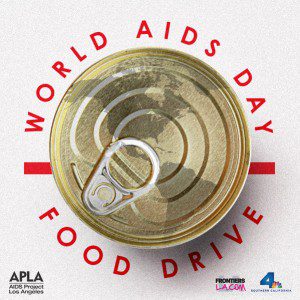 Saturday, Dec. 1, 2012
AIDS Project Los Angeles will hold a countywide food drive, seeking donations of non-perishable food and personal hygiene items for people living with HIV/AIDS.
Donations collected at the food drive will help supplement food provided to the clients who visit APLA's Vance North Necessities of Life Program food pantries every week.
Items can be dropped off at Revolver Video Bar at 8851 Santa Monica Blvd near San Vicente.
[hr]
AIDS Day Ride and Candlelight Vigil
[hr]
Saturday, Dec. 1, 2012, 1 p.m.
This 32-mile bicycle ride begins and ends at Bikes and Hikes LA, at 8743 Santa Monica Blvd. and Hancock Avenue. Riders travel to Ballona Creek and circle around Marina Del Rey.
A candlelight vigil procession will go from Bikes and Hikes to West Hollywood Park at 5 p.m.
Click here for more information and to RSVP.
[hr]
Divas Simply Singing
[hr]
Saturday, Dec. 1, 7:30 p.m.
Singer and actress Sheryl Lee Ralph presents the 22nd annual Divas Simply Singing. The DIVA Foundation pairs up with a set of A-list performers to provide a one-night-only concert that will raise funds for the fight against HIV/AIDS. The event will be held at Club Nokia at L.A. Live, 800 W. Olympic Blvd., near Figueroa Street in Los Angeles. Tickets $50 to $80. thedivafoundation.org
[hr]
Spacious Vision Song Project
[hr]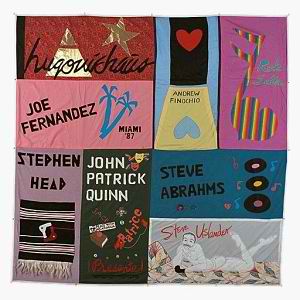 Nov. 30 and Dec. 1
Songs and poems from the AIDS Quilt Songbook will stand at the center of two concerts in observance of World AIDS Day — Nov. 30 in Long Beach (Bay Shore Community Church at 5100 The Toledo, at Nieto Avenue) and Dec. 1 in Glendale (First Congregational Church, 2001 Canada Blvd., at Wabasso Way). Admission is $20 at door, $12 for students and seniors. Go to spaciousvision.com for more info.
Inquire by e-mail to spaciousvision@outlook.com or phone (207) 200-3526.
[hr]
World AIDS Day Concert – AIDS Research Alliance
[hr]
Friday, Nov. 30, 7:30 p.m. – 9 p.m. 
The night's keynote speaker will be David Hardy, director of the Division of Infectious Diseases at Cedars-Sinai Medical Center. Hardy has treated HIV infected people since 1982. Emmy Award winner LeVar Burton will host.
The Calidore String Quartet and Wind Ensemble will perform Serenade No. 12 for Winds in C Minor, K. 388 by Mozart
The event will be held at the Colburn School, 200 South Grand Ave. at Second Street in Los Angeles.
For more information, click here.