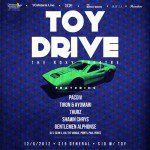 The Roxy Theatre is combining entertainment and good will in a toy drive Dec. 6 that will feature Southern California rappers Pacdiv, Tiron & Ayomari, Thurz and Shawn Chrys and Indiana's Gentlemen Alphonse.
The event begins at 9 p.m. at the Roxy, 9009 Sunset Blvd. near Wetherly. Tickets are $15 general admission and $10 if you donate a toy. The toys will go to needy children at Children's Hospital L.A.
DJs will include Sean G, Val the Vandle, Prints and Paul Printz.
Pacdiv, also known as Pacific Division, is a rap trio that originated in Southern California and is signed to Universal Motown Records. It is composed of two brothers, Like and Mibbs, and their long-time friend and acquaintance BeYoung. Los Angeles rappers TiRon Jeffries and Ayomari, whose "A Sucker for Pumps" was released a little more than a year ago, have distinguished themselves with a focus on treating women in their music as more than sex objects.
Yannick "Thurz" Koffi is a member of U-N-I, a hip hop duo from Inglewood. U-N-I is known for rejecting the Gangsta rap style and won the 2008 MTV Video Music Award for "Best Breakout LA Artist." On April 2 Thurz performed for the first time as a solo artist at The 2011 Paid Dues Festival in San Bernardino In February 2011 he announced he would be putting out a solo album entitled L.A. Riot.
Shawn Chrystopher Garrett II (better known as Shawn Chrys, was born and raised in Inglewood. In December 2010 he released his third full length album, "You, And Only You," led by the hit single "Catch Me If You Can", which drew raves from top music industry magazines.

In grade school, Chrystopher skipped from kindergarten to 2nd grade, resulting in him graduating high school at the age of 16. Upon graduation, Shawn was awarded a 4 1/2 year scholarship to the University of Southern California where he would major in political science.
Indiana-born Gentlemen Alphonse, now an Angeleno, bills himself as a management and brand development consultant as well as a songwriter and recording artist. His productions include Soul Cinema, produced with Indiana's alpha.live and Nightsons LLC.