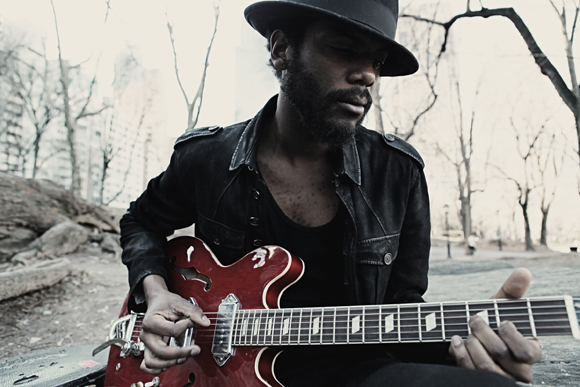 Rock, blues, and soul revivalist Gary Clark Jr. has been heralded as the "chosen one" by Entertainment Weekly. Others have called him the next Jimi Hendrix. Or Stevie Ray Vaughan.
This week, West Hollywood has a chance to decide for itself as the young 28-year-old prodigy performs three times, Tuesday-Thursday (Nov. 13-15), at the Troubadour.
In the name of his new album "Blak and Blu," Clark touts a more traditional live experience, one devoid of trendy gimmicks.
Music has long been a part of his life. He was inspired to sing as a young boy after his sister introduced him to the choir. In 1996, the image of Tito Jackson with his buzz guitar on the cover of "Live at the Forum" compelled him to pick up his first axe. At 12, he could never have known he would one day play for a president.
Soon after, Clark took to the live music circuit. He cut his baby teeth playing clubs in Austin, Texas, on 6th Street, an Indie rock and country music hotbed. Eventually, the city named May 3rd, 2001 his eponymous day. Clark was only 17.
His introduction to promoter Clifford Antone, founder of the popular Austin blues club Antone's, really got him rolling. Clifford soon had Clark sitting in on recording sessions with Jimmie Vaughan, Stevie Ray Vaughan's older brother. The rest was history.
Clark gained professional respect early on by effortlessly channeling the spirit of classic rock while maintaining the soul of rhythm and blues. He attributes his sound to many influences, even to Snoop Dogg and Tupac.
Fast forward to 2010. At the Crossroads Guitar Festival, he shared the stage with R&B icons like Jeff Beck, Eric Clapton, BB King, Buddy Guy and Steve Winwood.
Ben Harper's attempt to manhandle a six-string at the Hollywood Bowl last summer left much to be desired. Not that much technical guitar work was expected from Mr. "Steal My Kisses" in the first place. The multi-instrumentalist pop star still managed to pull off a solid show to a "hometown" audience. Singing and playing with special guests like … Natalie Maines of The Dixie Chicks? For a cover of Pink Floyd's song "Mother"? Yikes. Sid Barret is surely spinning in his grave.
By comparison, Clark is a true old-soul musician. He focuses on one thing and does it better than everyone else. His set is not elaborate, no costume changes, no light show. Just Clark, his band, and a hollow-body electric. It brings the listener to focus on what is important, the music.
Treat your ears to something genuine for a change.
A little shy off-stage but always smiling, Clark is at his best during a live performance. Just ask President Obama.
This year, he played the White House with BB King.
But forget the image and media buzz, Clark will still command your respect before the night is through. See him perform live either Wednesday or Thursday night, 7 p.m. at The Troubadour.