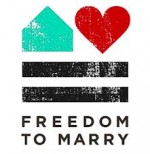 Supporters of same-sex marriage scored major victories in four states during Tuesday's election.
Maine voters approved a citizen initiative that would permit marriage of same-sex couples, reversing the results of a referendum in 2009 when a same-sex marriage bill passed by the legislature was repealed in a voter referendum. Gay marriage supporters pressed for this year's referendum, declaring that public attitudes toward gay marriage had changed since the 2009 repeal. Freedom to Marry, an advocacy group for gay marriage, said Maine was likely to begin issuing marriage licenses to same-sex couples in mid-December.
In Maryland, voters upheld a law passed by the state legislature earlier this year that permits civil marriages of same-sex couples. Maryland is expected to begin issuing marriage licenses to same-sex couples on Jan. 1, 2013.
In Minnesota, voters rejected a proposed constitutional amendment that would have banned same-sex marriage. Such marriages aren't currently legal in Minnesota, but same-sex marriage advocates worried that a constitutional ban would be harder to overturn.
And in Washington, opponents of same-sex marriage conceded on Thursday, according to an Associated Press report. The concession comes after supporters of gay marriage claimed victory on Referendum 74 on Wednesday. The referendum asked voters to approve or reject a law legalizing same-sex marriage.
With these results, ten states — Connecticut, Iowa, Maine, Massachusetts, Maryland, New Hampshire, Rhode Island, Vermont and Washington–permit same sex marriage. Constitutional bans on same-sex marriage have been enacted in 23 states, mostly in the South and Midwest