Peruvian food is a big trend in the culinary world. The Wall Street Journal, Zagat, and PBS, among countless others, have crowned Peruvian food as the next big thing.
And there's good reason for its popularity; Peruvian cuisine is diverse and varied, reflecting the country's diverse population, which includes native Incan and pre-Incan populations, combined with significant communities of immigrants from Spain, Italy, Asia and Africa.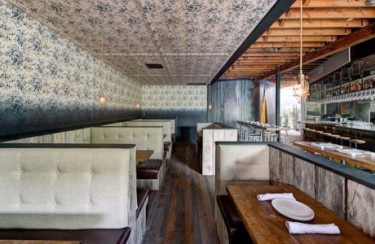 The LA area is home to more than half a million people of Peruvian descent, which is one reason there are so many fine Peruvian eateries scattered throughout the area.
In WeHo, there's even a hint of Peruvian in the menu at the new Laurel Hardware restaurant on Santa Monica Boulevard.
Until 2008, Laurel Hardware was exactly what the name implies, a hardware store. This summer, in a nod to the building's history, the restaurant retained the store's iconic neon sign. However, inside the restaurant is a smart, stylish space. It's incomprehensible to imagine the place ever sold drill bits.
The menu at Laurel Hardware is solidly American, with a selection of pizzas, mains and shared plates that focus on comfort food and seasonal produce.
But the head chef, LA-native Mario Alberto, has cooked in several of LA's prominent kitchens and is probably most well-known for his work at Chimú, a Peruvian restaurant downtown that was highly regarded, but short-lived. He also worked at the original Mo-Chica, another well-regarded Peruvian eatery.
So, for instance, you'll see "cancha" on the snack menu at Laurel Hardware, a Peruvian snack akin to a "corn nut" and made from a kind of corn that doesn't explode when heated like popcorn, yet retains its shape. There are also chicharrones, which are popular in Peru and throughout Latin and South America. The deep-fried pork snack is served with a yogurt sauce flavored with maple, bourbon, and espelette (a spice from the Basque region of France). And quinoa, the popular and healthy gluten-free seed native to the Andes, shows up a couple of times on the menu, in the baby kale and tatsoi salad and as an accompaniment to the seared scallops.
Who knows? Maybe if the Peruvian food trend continues into the coming months and years, we'll see even more Peruvian-influenced items on the menu at Laurel Hardware.
Laurel Hardware is located at 7984 Santa Monica Boulevard in West Hollywood.