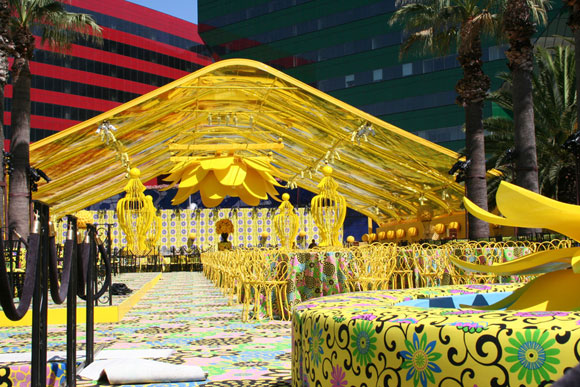 [dropcap]I[/dropcap] visited the HBO Emmy after-party this year, but unlike most, tried to do so when no celebrities were around — the venue's design was what I came to see. Since 2003, HBO has held its Emmy party in the front court of West Hollywood's Pacific Design Center (PDC), and each year it has brought on designer Billy Butchkavitz to make it, easily, the most extravagant, elaborate and enviously fabulous of Emmy after-parties.
The design began (as it has each year) with a large plastic-roofed tent being set up in the court, allowing one to be fully engulfed in the color du jour; this year, yellow. Intense custom-designed patterns covered nearly every surface of the event, from the carpet, to the seats, to the walls. The textiles mixed floral and geometric designs in banana yellow with bursts of green, blue, lilac, fuchsia and black filigree—at times bringing the HBO logo into larger blooms—a poppy blend of Austrian art nouveau and late 60s flower power. A projector, exactly mapped to the outlines of the adjacent Museum of Contemporary Art (MOCA) building lent movement, pattern and color to a structure that is, otherwise, quite beige and background. Above, petals of a flower-shaped chandelier (also yellow and at least 20 feet across) anchored the design, which was populated by oversized urns, flower poofs, working fountains and, eventually, celebrities.
The PDC is no stranger to the bold use of color, with the high-saturation opaque primaries of the blue, green and red buildings, but it is two features that set Butchkavitz's design off from its surroundings: his use of pattern, which contrasts the ageless auto-like finish of the PDC buildings, and the use of a different color each year. The HBO tent has brought many hues to the PDC. Last year, it was red (more specifically tangerine and raspberry) and before that celadon, grapefruit, amber, mint, tourmaline, citrine, silver, topaz and sapphire, just to name a few. Jewels and fruit.
But, this year, one might ask, why banana yellow?
Does it have some significance or theme? Something from Butchkavitz's travels? The color was certainly not chosen in consideration of the stars being photographed: it challenged their clothes and made it seem as if jaundice were currently epidemic in Hollywood.
But really, when it gets down to it, none of these possible meanings, musings or mistakes much matter, and nobody really notices—it is, after all, a one-night event. The significance of banana yellow is that the HBO party has not been yellow in past years and, one can assume, will not be yellow in years to come.
Banana yellow is HBO Emmys 2012, enjoy it, you only get one taste.